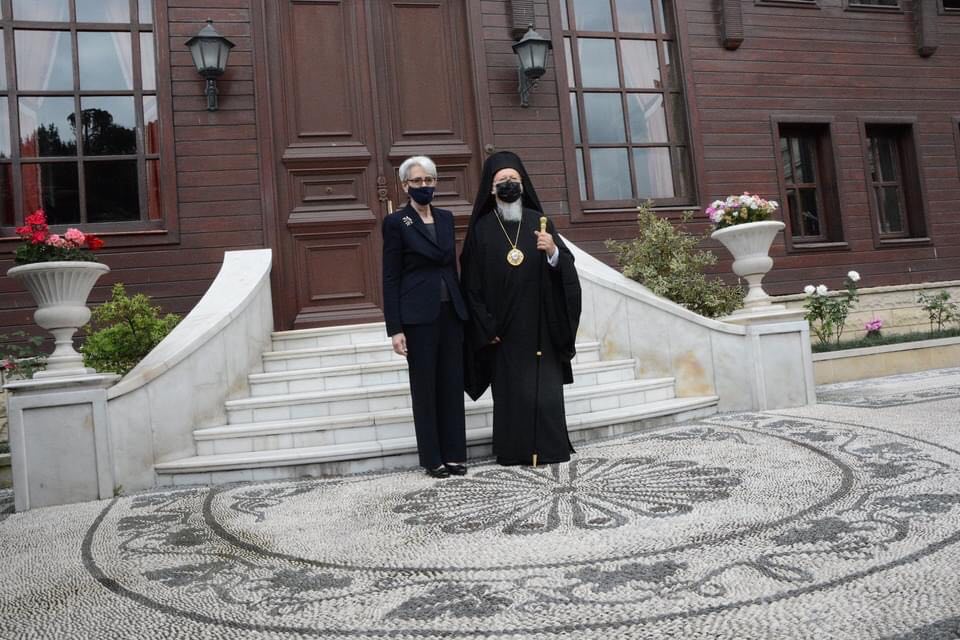 The Deputy Secretary of State of the United States of America, Mrs Wendy R. Sherman visited the Ecumenical Patriarchate on 29 May 2021 and was received with great honor. She was accompanied by the US Ambassador to Ankara, Mr. David Satterfield, and his associates. They were welcomed by the Grand Protosyncellus Theodoros, Archimandrite Grigorios, Chief Secretary of the Holy Synod, and the Grand Syncellus Iakovos. Afterwards, Mrs. Sherman, Mr. Satterfield and their companions visited the patriarchal church.
Afterwards, the high visitor was warmly welcomed by His All-Holiness Ecumenical Patriarch Bartholomew, who expressed his joy for her visit. Attending the meeting were Elder Metropolitan Emmanuel of Chalcedon and officials of the Patriarchate, Ambassador Satterfield and the Minister's associates. They raised issues of common interest and referred to past patriarchal visits to the United States, as well as the forthcoming one to be held next October. The Patriarch also briefed Mrs. Sherman on the priorities and activities of the Ecumenical Patriarchate, which, among other things, aim at the peace of the world. Finally, His All-Holiness wished Mrs. Sherman a safe and fruitful continuation of her visit in the coming days from Turkey to countries of the Far East.
For her part, the Minister spoke about her country's interest in religious freedoms around the world and its respect for the historic institution of the Ecumenical Patriarchate and its role today internationally.