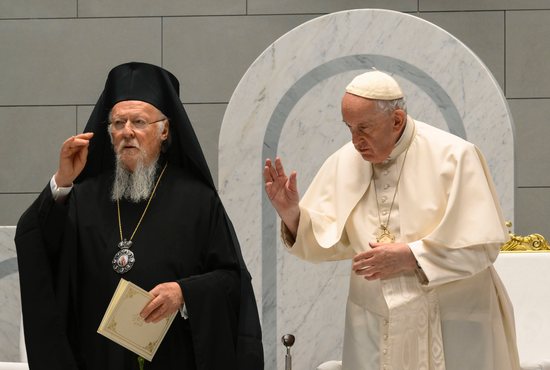 His All-Holiness Ecumenical Patriarch Bartholomew participated in the Bahrain Forum for Dialogue "East and West for Human Coexistence" which took place on 3-5 November 2022 in the Kingdom of Bahrain under the patronage of King Hamad bin Isa Al Khalifa and which was attended by many eminent intellectual figures and representatives of religions from different countries. The program of the forum featured sessions that highlight the promotion of global coexistence and human fraternity, dialogue and peaceful coexistence and present the Bahrain Declaration as a model to be emulated.
During his visit, on 3 November, His All-Holiness met with His Eminence Dr. Ahmed Al – Tayeb, Grand Imam of Al-Azhar and Chairman of the Muslim Council of Elders, as well as with His Royal Highness Prince Salman bin Hamad Al Khalifa, Crown Prince, Deputy Supreme Commander and Prime Minister.
On 4 November, the Ecumenical Patriarch joined Pope Francis as well as other Christian leaders from the region for an Ecumenical Meeting and Prayer for Peace at the Cathedral of Our Lady of Arabia in Awali. On the same day, the Pope and the Ecumenical Patriarch had a private meeting to discuss topics of common interest.