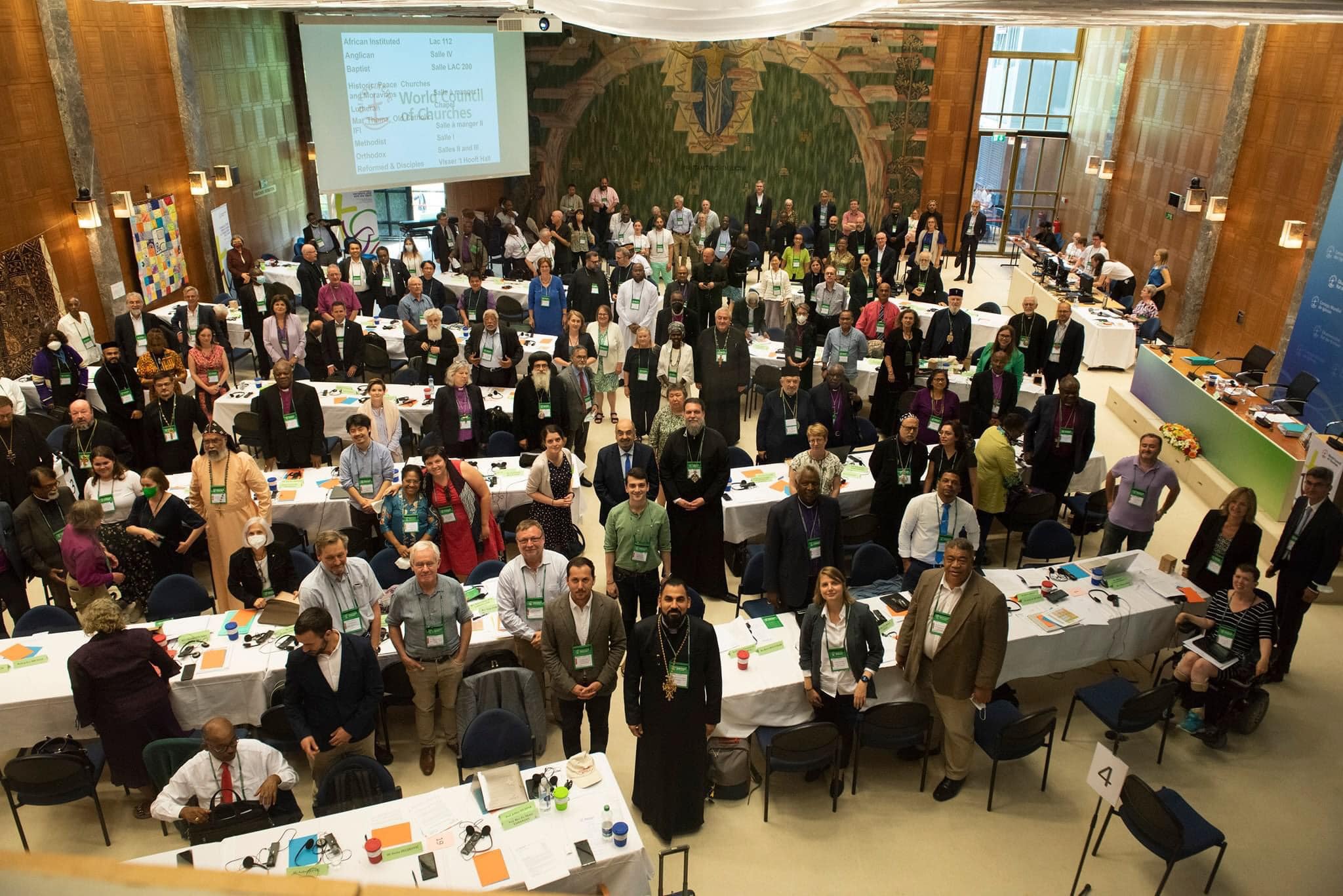 The World Council of Churches (WCC) central committee convened in-person from 15-18 June 2022 at the Ecumenical Center in Geneva for the first time since 2018. While solemnly acknowledging the grave crises facing the world, the WCC governing body also brought a spirit of joyful gathering as preparations for the WCC 11th Assembly continue. A memorial prayer for the late Metropolitan Gennadios of Sassima took place on the opening day.
The agenda included review and action on the draft unity statement for the assembly, as well as on amendments proposed by the working group on constitution and rules, and by-laws for two commissions.  The WCC central committee issued among others a statement on war in Ukraine and on Threats to a Just Peace in Israel and Palestine, and to the Christian Presence in the Holy Land.
The Central Committee elected as new WCC general secretary Rev. Prof. Dr Jerry Pillay, dean of the Faculty of Theology and Religion at the University of Pretoria. He is a member of the Uniting Presbyterian Church in Southern Africa. Dr Pillay will take up his position 1 January 2023.
The Central Committee has also elected H.E. Metropolitan Nifon of Târgoviște (Orthodox Church of Romania), to serve as vice moderator of the central committee, fulfilling the service of the late Metropolitan Gennadios, and to serve on the leadership of the WCC central committee. Metropolitan Nifon serves also on the WCC executive committee as moderator of the Public Issues Committee and on the executive committee of the Joint Working Group between the Roman Catholic Church and the WCC.
The committee also elected Rev. Anne Heitmann as moderator of the Assembly Planning Committee, another position held by the late Metropolitan Gennadios. Rev. Heitmann is from the Protestant Church in Baden, and is serving as the Head of Department for Mission and Ecumenical Relations in Baden.
Prof. Dr Dimitra Koukoura, representing the Ecumenical Patriarchate was elected to be the Orthodox member of the Permanent Committee on Consensus and Collaboration, another position held by the late Metropolitan Gennadios. The executive committee noted in its report the specific requirements of the bylaws of the Faith and Order Commission and refers a decision to the commission on the successor for Metropolitan Gennadios.
The committee agreed to issue an invitation to the Orthodox Church of Ukraine to nominate two delegated observers to the WCC 11th Assembly, recognizing the church's strong interest to join the WCC fellowship of member churches. The Ukrainian Council of Churches and Religious Organizations, recognizing their role as a national council that brings together churches and other faiths, was invited to send up to three observers to the assembly.