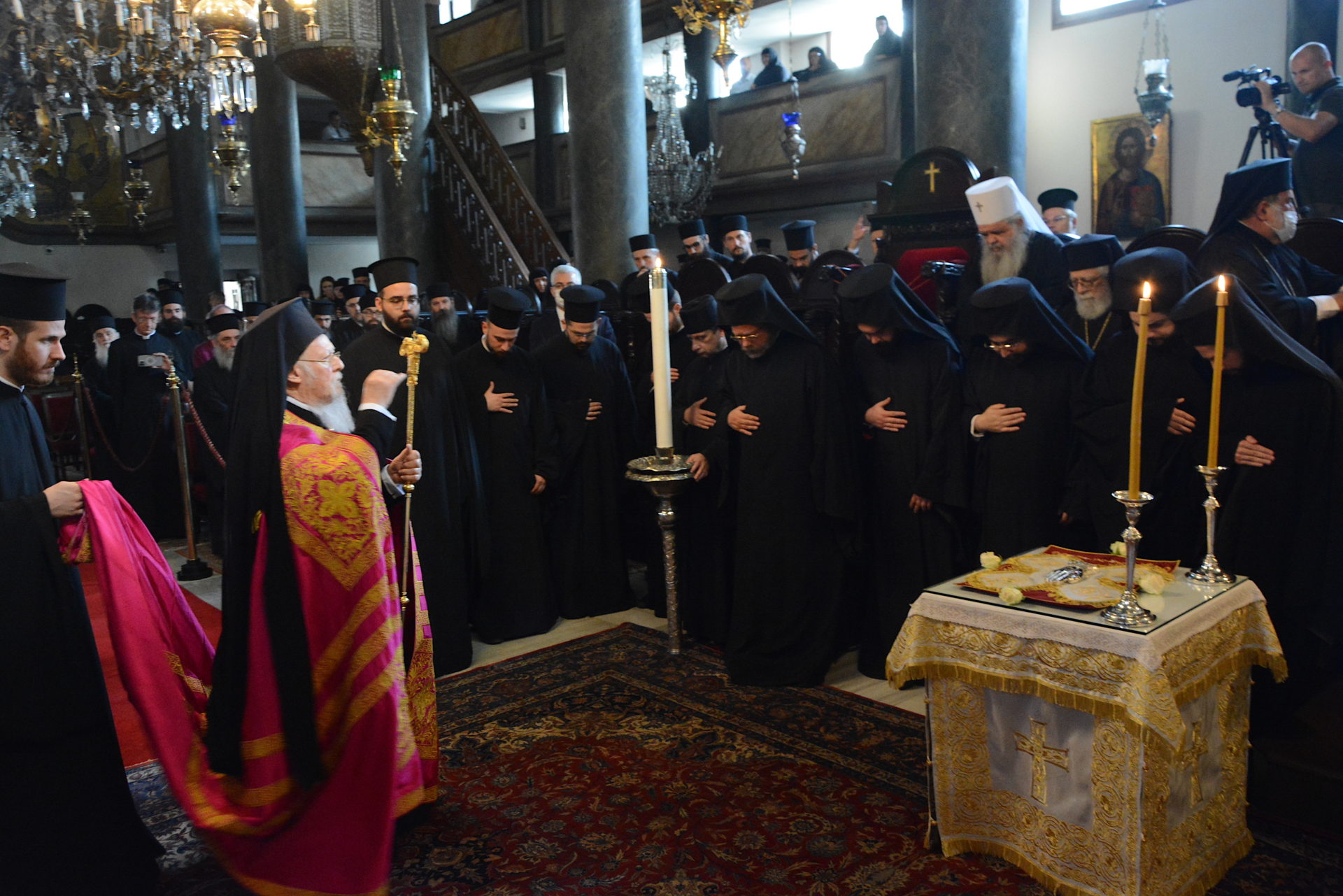 On his the name's day, on the feast of the glorious Holy Apostles Bartholomew and Barnabas, His All-Holiness Ecumenical Patriarch Bartholomew presided the Divine Liturgy from the throne on 10 June, 2022 at the Patriarchal Church of Saint Georges at the Phanar, together with their Eminences Senior Metropolitan Emmanuel of Chalcedon, Senior Metropolitan Demetrios of the Princes Islands, Chrysostom of Dodoni, Peter of Prespon and Pelagonia, Timothy of Debar and Kichevo, Athenagoras of Mexico, Meliton of Philadelphia, Irinaios of Myriophytos and Peristasis, Chrysostomos of Myra, Theodoretos of Laodicea, Theoleptos of Iconium, Nikandros of Irinoupolis, Athenagoras of Belgium, Chrysostom of Patras, Eugenios of Crete, Nathanael of Kos and Nisyros, Dionysios of Zakynthos, Stephanos of Kallioupolis and Matytos, Elpidophoros of America, Arsenios of Austria, Athenagoras of Kydonia, Panteleimon of Maronia and Komotini, Cleopas of Sweden, Maximos of Ioannina, Maximos of Selyvria, Amphilochios of Adrianoupolis, Bartholomew of Smyrna, Kyrillos of Imbros and Tenedos, Chrysostomos of Semes, Symeon of Fthiotida, Hierotheos of Lemnos and Agios Eustratios, Prodromos of Rethymnon and Aulopotamos, Andreas of Saranta Ekklesies, Joachim of Proussa and His Excellency Job of Telmessos.
His Eminence Archbishop Stephan of Ohrid, Hierarchs of the Ecumenical Throne, His Eminence Archbishop Nektarios of Anthidonos (Representative of the Holy Sepulcher in Constantinople), His Eminence Metropolitan Vassilios of Constantia and Famagusta (Representative of the Holy Church of Cyprus), His Excellency Archbishop Marek Solczynski (Vatican nuncio to Turkey and Azerbaijan), His Grace Bishop Parthenios of Antania (Abbot of the Holy Monastery of the Holy Forerunner-Bigorski) with members of his brotherhood, the Very Reverend Archimandrite Nathanael (Abbot of the Holy Monastery of Iviron on Mount Athos) with members of his brotherhood, clergymen, monks and nuns, representatives of Christian communities in Constantinople and from around the world and Archons of the Ecumenical Throne.
Were also present Mrs. Zetta Makri, Deputy Minister of Education and Religion of Greece, Mr. Ioannis Chrysoulakis, Secretary General of Hellenes Abroad and Public Diplomacy of the Ministry of Foreign Affairs of Greece, the Consuls General in Istanbul of Greece, Mrs. Georgia Sultanopoulou, of Ukraine, Mr. Roman Nedilskyi, and of the Republic of Northern Macedonia, Mr. Aktan Ago, representatives of the community, students of the Greek schools with their principals and teachers, faithful from Constantinople, and a large number of pilgrims from Greece, the Republic of Northern Macedonia and other countries.
After the Dismissal, His All-Holiness served a memorial service for the rest of the soul of the late Metropolitan Sotirios of Pisidia, who felt asleep in the Lord a few hours earlier in the morning, after many months of illness. Afterwards, His All-Holiness was greeted on behalf of the Hierarchy of the Throne by His Eminence Senior Metropolitan Emmanuel of Chalcedon. His All-Holiness, in return, thanked all those who came to celebrate his name's day.