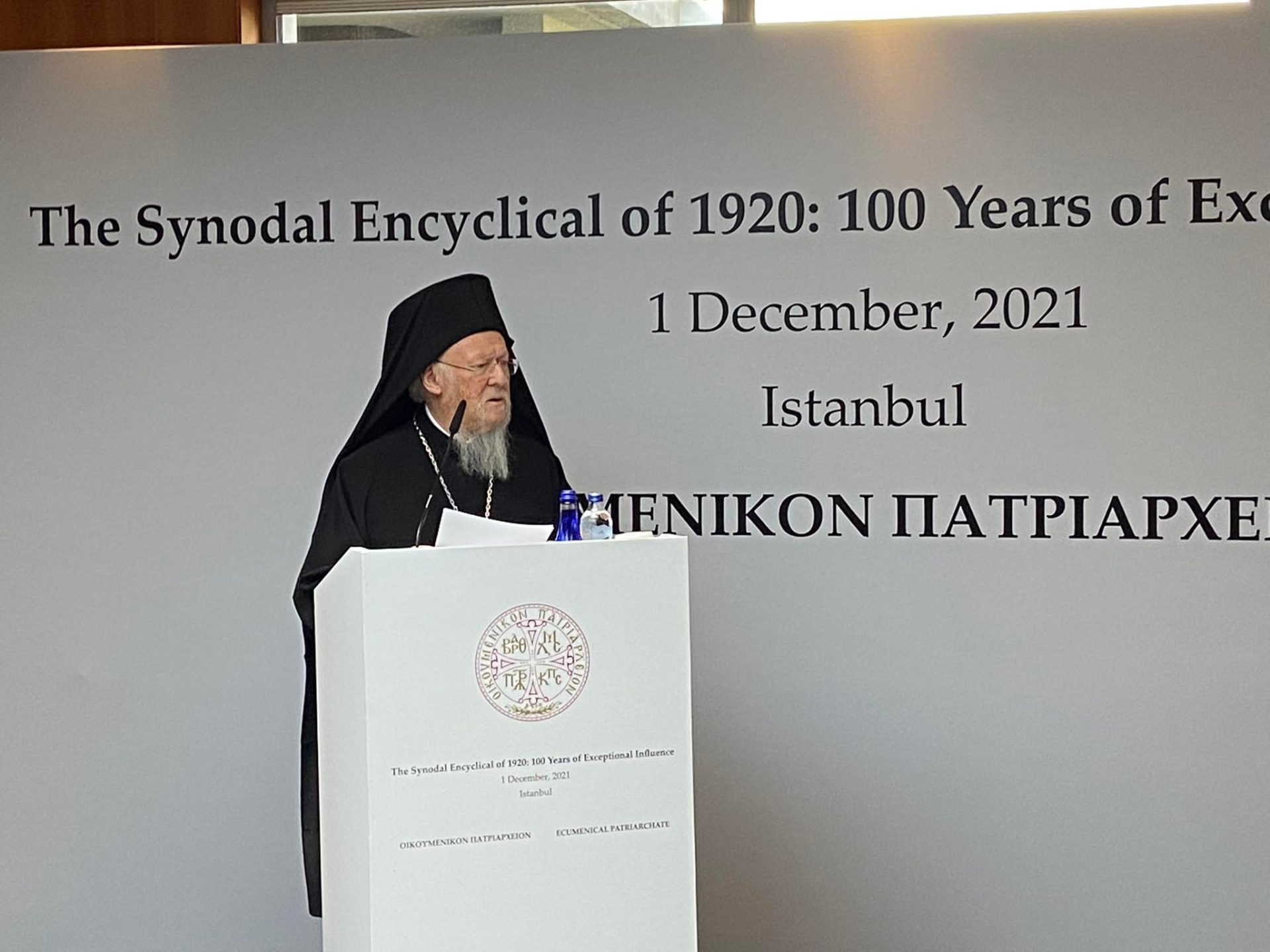 Under the title "The Synodal Encyclical of 1920: 100 Years of Exceptional Influence," the Ecumenical Patriarchate celebrated, on 1 December 2021, one of the most important ecumenical documents of the 20th century. The conference was originally scheduled to take place last year, on the 100th anniversary of the publication of the Encyclical but was postponed due to severe restrictive measures against the pandemic.
A few years before his death, Dr Willem Visser 't Hooft, the first general secretary of the World Council of Churches (WCC), had dedicated the first chapter of his book "The Genesis and Formation of the World Council of Churches" to this historical document, recognizing its foundational character in the history of the WCC.
The opening session was attended by the Patriarch of the Armenians in Turkey, representatives of the Pontifical Council of Christian Unity, the acting general secretary of the WCC, the president of the Conference of European Churches, hierarchs of the Ecumenical Patriarchate and the Churches of Cyprus and Greece, diplomats and official guests.
In his opening speech, His All-Holiness Ecumenical Patriarch Bartholomew characterized the Encyclical as an axial text in the history of the ecumenical movement. He particularly insisted on the fact that the Encyclical was drafted by members of the faculty of the Theological School of Halki, expressing therefore the "spirit of Halki," whose main characteristics were openness to the world and confidence in the power of dialogue. Unfortunately, the School of Halki has been closed for five decades and it is certain that the suspension of the school also affected the course of the ecumenical movement. 
The centennial anniversary of the encyclical of 1920 gave to His All Holiness Ecumenical Patriarch Bartholomew the opportunity to appeal once again to the Government of Turkey, to allow the reopening of the school, which has offered a lot to Christianity and culture. 
Following His All Holiness the Patriarch, several speakers developed the content, the meaning and the importance of the Encyclical.
Rev. Prof. Dr Ioan Sauca, WCC acting general secretary, presented a paper on "The importance of 1920 Encyclical for the relaunch of reflections and debates on the relations between the Orthodox Church and other Churches and Christian confessions," which was received with great interest and appreciation.