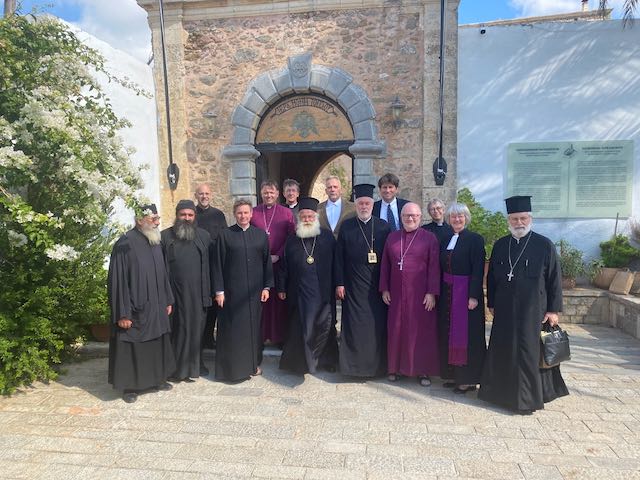 After a two-year hiatus, the Drafting Committee of the International Commission for the Anglican–Orthodox Theological Dialogue met between 18 and 23 October 2021 in Hierapetra on the island of Crete (Greece).
The meeting brought together on the Orthodox side Metropolitan Athenagoras of Belgium, the Orthodox co-president (Ecumenical Patriarchate), Protopresbyter Georges Dragas (Patriarchate of Jerusalem), Professor Bogdan Louvartic (Patriarchate of Serbia), Professor Nathan Hop (Church of Albania) and the Orthodox co-secretary Protopresbyter Christos Christakis. The Anglican side was composed by Archbishop Dr Richard Clarke, the Anglican co-president, Bishop of Norwich Dr James Graham, as well as Pastors Rev. Canon Dr Alison Joyce, Sarah Rawland Jones, Neil Vaïngers and the Anglican co-secretary William Adam.
The committee worked on the other text dealing with euthanasia and end of life, preparing the document for the upcoming plenary assembly. The Commission also undertook the study of the next topics: organ donation and transplantation, as well as marriage.
The Commission received a hospitality worthy of Abraham by His Eminence Metropolitan Kyrillos of Hierapytna and Sitia, and expresses its full thanks to His Eminence and his collaborators, and especially to his Protosynkellos, Archimandrite Ambrose Skarvelis.
The members of the Commission visited the Patriarchal and Stavropegic Monastery of the All Holy Akrotiriani and of Saint John the Theologian of Toplou in Sitia, where they dined and were guided by the Hegumenos of the Monastery Archimandrite Ambrose and the former one Archimandrite Philotheos. They were also guided in the ecclesial museum of the Monastery, thus being able to admire the important exhibits of its rich history.
The next Full Assembly of this Commission will take place, God willing, in the Penteli Monastery (Athens), in October 2022.