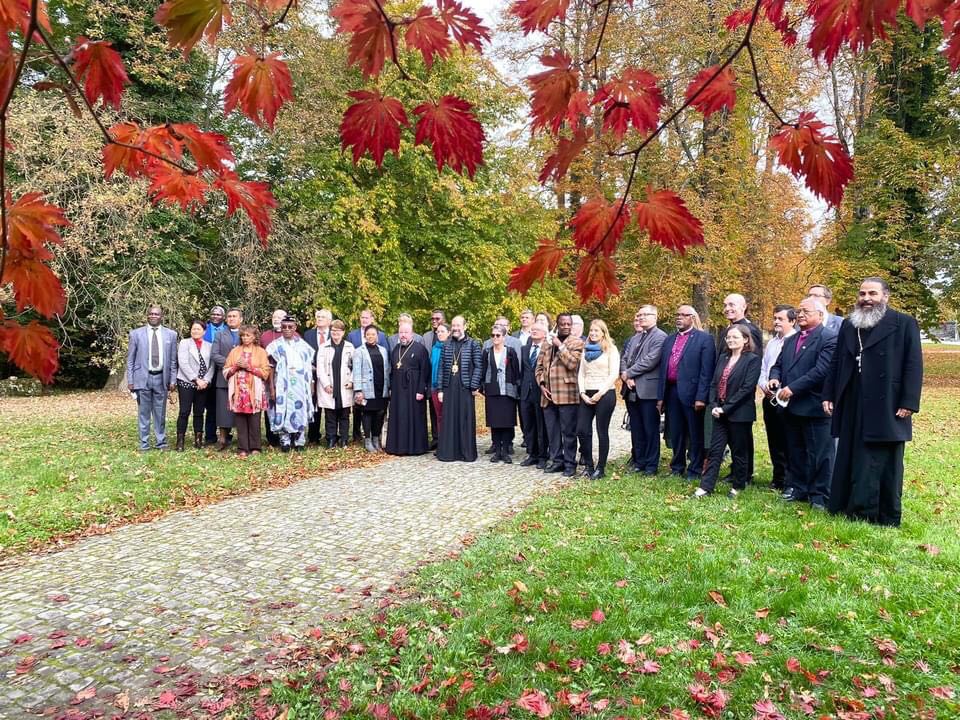 Nearly 60 ecumenical officers convened on 25-28 October 2021 at the Ecumenical Institute at Château de Bossey near Geneva, focusing on plans for the World Council of Churches (WCC) 11th Assembly in 2022 and its theme, "Christ ́s love moves the world to reconciliation and unity." This gathering was the ecumenical officers' largest in the lead-up to the assembly.
In welcoming remarks, WCC acting general secretary Rev. Prof. Dr Ioan Sauca expressed joy at the ecumenical officers being able to gather again after two years. "During the past two years we faced many questions in our different contexts about our world and the life of our churches," Sauca said. "The world changed in ways we could not imagine." As plans for the assembly take shape, Sauca said, these plans are undergirded with a feeling of moving forward together. "This meeting is an integral part of the process of preparation for the next assembly. We look forward to your input on the fruits of our work and the harvest we can bring to Karlsruhe," he said. "Our world needs love, reconciliation and unity. And our fellowship is called to respond in prayer and with acts of transforming discipleship", added Sauca.
Rev. Dr Benjamin Simon, WCC programme executive for Church relations, said that the meeting was an example of how a gathering can take place both in-person and online, and still draw people together in a genuine setting. "With 40 ecumenical officers present in Bossey—coming from all over the world—we are so grateful for face-to-face time," said Simon. "We are equally grateful for an additional 30 ecumenical officers who are following from across the globe, because they were not able to be present due to COVID-19-related restrictions."
The officers strengthened collaboration and a common spirit of working, walking and praying together between member Churches and the WCC. Part of that discussion will consider how hybrid meeting formats could enhance future cooperation.  Dialogue was centered on learning from each other's experiences during COVID-19 and how Churches dealt with—and are still coping with—the challenges of the ongoing pandemic. 
WCC leaders updated the ecumenical officers on the latest news from the Assembly Planning committee, as well as some highlights of content from the assembly programmes. The ecumenical officers also shared their different perspectives on the assembly theme, with a lens toward special topics such as overcoming racism, and discerning the shape of the future of the Pilgrimage of Justice and Peace.
Ecumenical officers also met with Bossey students, listening to their views and perspectives on the ecumenical movement and the assembly. Young people in the ecumenical movement also shared their issues and challenges, as well as their vision for a way forward.