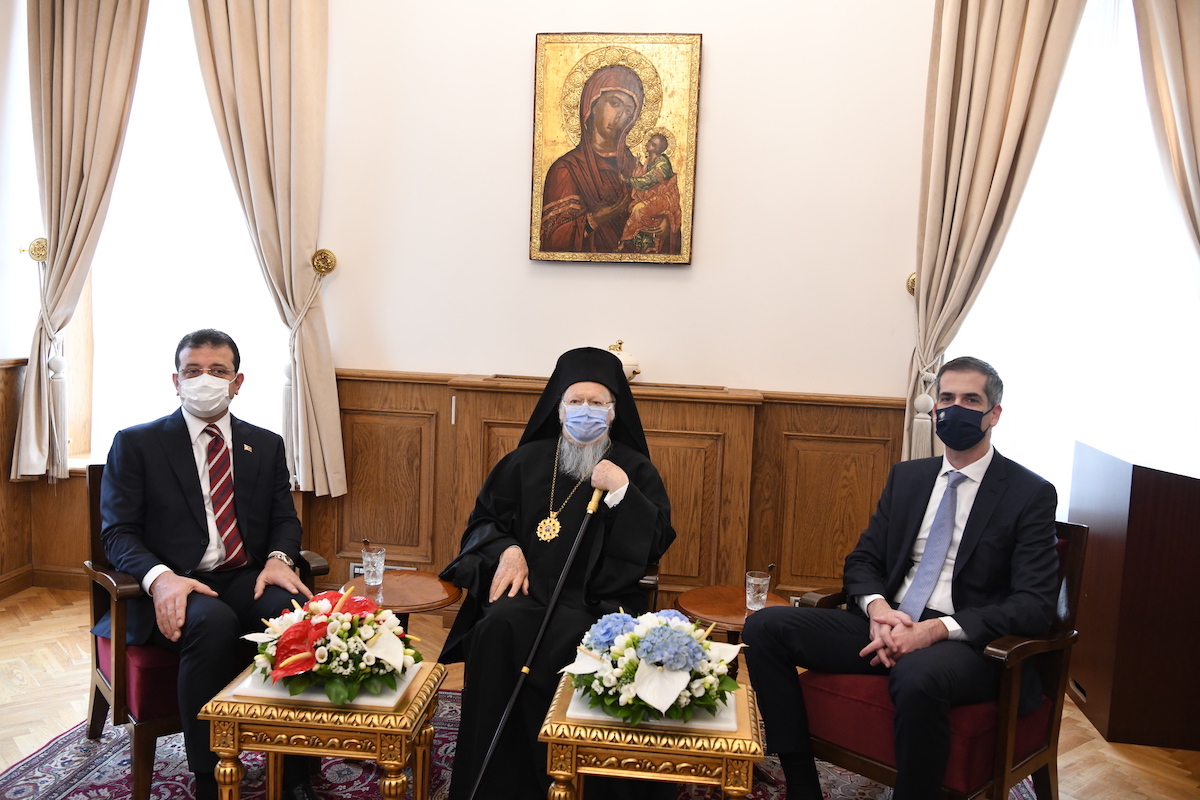 On 19 March 2021, the mayors of Athens and of Istanbul, Mr. Costas Bakoyannis and Ekrem Ammamoğlu, paid a joint visit to the Ecumenical Patriarchate. They were warmly welcomed by His All-Holiness Ecumenical Patriarch Bartholomew, who expressed his joy for the joint visit of the leaders of the two historic cities to the Center of Orthodoxy.
During their meeting, His All-Holiness stressed, among other things, the importance of developing closer cooperation between the two cities for the benefit not only of their citizens, but of the peoples of Greece and Turkey in general, and recalled the respective visit to Phanar of their predecessors, Mayors Miltiadis Evert and Bedrettin Dalan, which took place in 1988. He also referred to the very good relations that Mr. Dimitris Avramopoulos developed during his tenure as Mayor with the then Mayor of Istanbul and current President of the Turkish Republic, Mr. Recep Tayyip Erdoğan.
"In any case, we wish the friendly relations between the two cities, the two countries and the two people, to be cultivated and to progress for the good of both sides", noted His All-Holiness and added: "Our Patriarchate always feels that it is a bridge between the two sides, a bridge of friendship, peace, solidarity for the happiness of the inhabitants of the two cities and the two countries".The meeting, which lasted about an hour, was attended by their Eminences Metropolitan Elder Emmanuel of Chalcedon, Makarios of Australia and Cyril of Imbros and Tenedos, Archon Prof. Konstantinos Delikostantis, Director of the First Patriarchal Office, as well as the associates of the mayors. Afterwards, Mr. Bakoyannis and his associates prayed in the patriarchal church, where the Grand Prime-Chancellor Theodoros informed them about its history and showed them the holy relics that are kept in it.