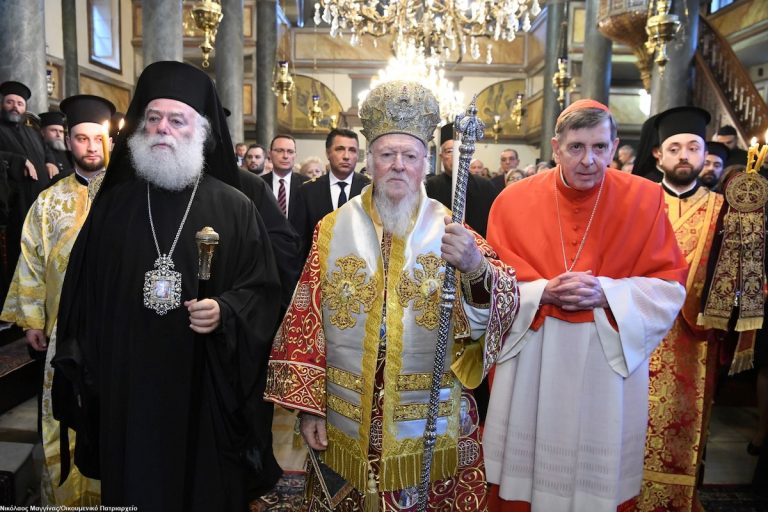 In a solemn atmosphere, the Ecumenical Patriarchate honored the memory of its founder, St. Andrew the Apostle. On Saturday 30 November 2019, a solemn Divine Liturgy was concelebrated by the Ecumenical Patriarch Bartholomew and by the Pope and Patriarch Theodore II of Alexandria, with the participation of Archbishop Irenaeus of Crete, Metropolitans Makarios of Anea, Basil of Constantia and Ammochostos (Church of Cyprus), Theodoritos of Laodicea, George of Guinea (Patriarchate of Alexandria), Athenagoras of Belgium, Damaskinos of Kydonia and Apokoronos, Nathanael of Kos and Nisyros, Dionysios of Zakynthos (Church of Greece), Athenagoras of Kydonia, Myronos of New Zealand, and Evstratij of Chernihiv and Nizhyn (Church of Ukraine).
The Divine Liturgy was attended by the official delegation of the Church of Rome, headed by His Eminence Cardinal Kurt Koch, President of the Pontifical Council for Promoting Christian Unity. On the eve, the delegation of the Vatican met in a private audience the Ecumenical Patriarch Bartholomew  and had its bi-annual informal talks with the representatives of the Ecumenical Patriarchate.
Were also present at the Divine liturgy many hierarchs of the Ecumenical Throne, Archbishop Nektarios of Anthidonos (the Representative of the Holy Sepulcher in Constantinople) and Metropolitan Michael Lutsk and Volyn (Church of Ukraine). From the civil authorities were also present the Deputy Foreign Minister of Greece Mr. Antonios Diamataris (representing of the Greek Government), the Deputy Foreign Minister of Ukraine Mr. Vasyl Bodnar (representing the President of the Ukraine), Mr. Ioannis Amanatidis (Member of the Greek Parliament), and many other diplomats.
The homily was preached by Metropolitan Makarios of Gortyna and Arcadia. During the Divine Liturgy the Ecumenical Patriarch Bartholomew ordained as deacon Basil Grigoriadis, son of a priest of Constantinople, giving him the name of Barnabas.
At the end of the Divine Liturgy, the Ecumenical Patriarch addressed the official delegation of the Roman Catholic Church, expressing his satisfaction of the work of the Joint International Commission for the Theological Dialogue between the Roman Catholic Church and the Orthodox Church, which has been working for 40 years, on the important document on "Primacy and Synodality in the second millennium and today." He also mentioned the prophetic gesture of Pope Francis to donate fragments of relics of the Holy Apostle Peter to the Church of Constantinople, stressing that  the dialogue of truth in the bond of love is enriched, deepened and strengthened by the ecumenism of saints, mentioning that the veneration of the holy relics can help the faithful to understand the goal of the dialogue. He also announced the invitation of the Pope and Patriarch Theodore II of Alexandria to host the next plenary of the Joint International Commission in Alexandria.
Following the address of the Ecumenical Patriarch, Cardinal Kurt Koch responded by reading a message of Pope Francis of Rome, expressing his warmest wishes to the Ecumenical Patriarchate for the feast of his patron, Saint Andrew, and referred to the importance of the official theological dialogue between the two Churches, completing forty years of existence.