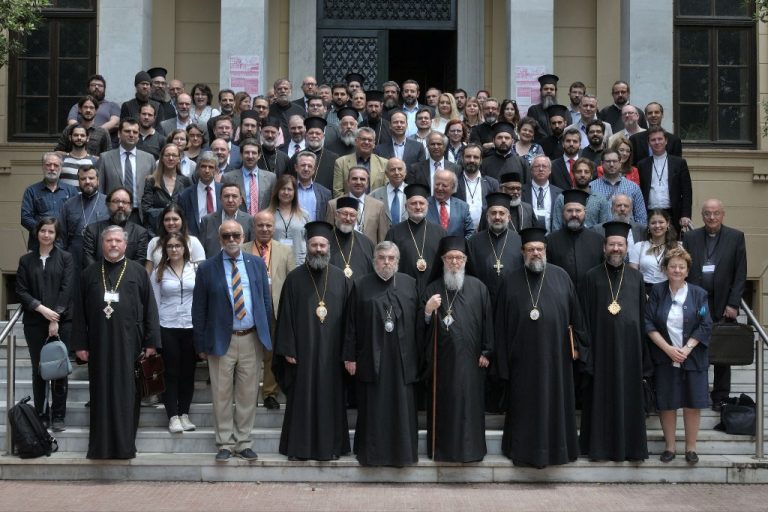 The four-day works of the 8th International Conference of Orthodox Theology, organized by the Aristotle University of Thessaloniki, under the auspices of the Ecumenical Patriarch Bartholomew, were completed on Thursday, May 24, 2018, with a large number of speakers, delegates and students on the theme: "The Holy and Great Council of the Orthodox Church. Orthodox Theology in the 21st Century ".
The international academic theological community, with one hundred and twenty elected speakers, clergy and lay people, from 15 countries and 25 Theological Schools, Institutes and Research Centers, has responded to its duty to assist in the work of the Church with theological thought and research and concrete proposals.
The 8th Congress gave a creative present and expressed a theological discourse in relation to irresponsible slogans and unfair public attitudes at the expense of truth.
The Theological Faculty of the Aristotle University, consistent with its constant aim, which is the dynamic approach and visibility of the Orthodox tradition, renewed earlier decisions for the collaboration of the Orthodox Theological Schools with regular conventions of such conferences but now also on an online basis in order to support the synodic institution at a Pan-Orthodox level.
The theological community through study, research and dialogue is made available to the Orthodox Church for the issues on the agenda of the next Pan-Orthodox Synod in the hope of dealing with other burning pastoral and regular problems of today.
Significant were the suggestions of hierarchs and academic professors who analyzed the Church's debt in the modern world, the crucial issue of the Diaspora and other ecclesiological issues. It underlined the contribution and the perspective of the Holy and Great Council, its decisions and the future of theological studies, along with individual pastoral, theological and historical parameters.
The conference began with a concert of Byzantine music of the "Romanos Melodos" Association in the St. Georges' Rotonda, under the direction of the Protopsaltis Mr. Panagiotis Neohoritis. It was followed by the official opening of the Conference at the Faculty of Philosophy and Theology of the Aristotle University of Thessaloniki, with the presence of His Eminence Archbishop Elder of America Dimitrios — the representative at the conference of the Ecumenical Patriarch Bartholomew, the Metropolitan Anthimos of Thessaloniki, Metropolitans of the New Lands, representatives of the Patriarchates of Antioch, Jerusalem, Serbia and Romania, of the Churches of Greece, Cyprus, Albania and the Czech Republic, Russian, Georgian and Bulgarian theologians, hierarchs of the Ecumenical Patriarchate and other Churches, representatives from various Theological Faculties and Academies, the Professors of the Faculty of Theology of the Aristotle University of Thessaloniki and the great participation of young theologians and students.