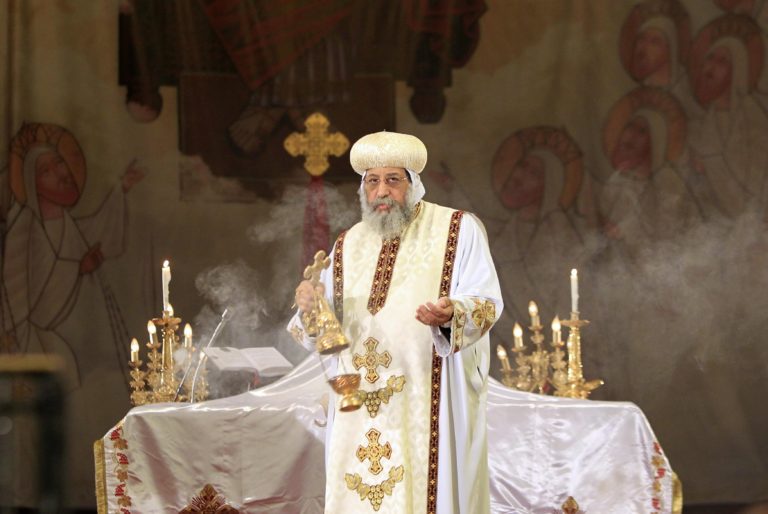 The Ecumenical Patriarch Bartholomew's sent a letter of condolences to His Holiness Pope Tawadros II, Head of the Coptic Orthodox Church, following the terrorist attacks that struck Coptic churches in Tanta and Cairo (Egypt) killing at least 47 people as members of the country's largest religious minority celebrated Palm Sunday.
Your Holiness Tawadros II, Pope and Patriarch of the Coptic Church in Egypt, our beloved brother in Christ: grace and peace from on high.
It was with a heavy heart that we learned of the terrorist attacks targeting your churches and faithful flock who, like us, gathered to pray and honor this most holy day of the ecclesiastical year marking the Lord's triumphant entry into Jerusalem. We witnessed in the media with great grief the destruction and mourning that these barbaric attacks have brought to your community, as well as to all of Christendom, and we hasten to convey our wholehearted condolences and the prayers of the Ecumenical Patriarchate. As a martyric Church, we also stand in solidarity with you and your people, who have prevailed courageously and faithfully for centuries over persecution and oppression.
The challenges posed to our present day and age by fundamentalism are great – the pain of those mourning equally so. Yet, we understand that our responsibility to the contemporary world is to remain resilient in times of terror and faithful in times of doubt and unnerving circumstances. We worship the One who responded to the godless and unrepentant spirit of humanity, by descending from His heavenly abode to embrace us. He, for "us and our salvation", became man in order that "men might be like God". It was through His humility, forbearance, simplicity, and unceasing and inexhaustible love that He not only conquered sin, but also won for us the ability to be victorious with Him over sin and death.
Our victory through Christ Jesus was promised to us, most especially when persecuted for righteousness and because of His name. At this very moment, we remember His words: "Blessed are you when people insult you, persecute you and falsely say all kinds of evil against you because of me. Rejoice and be glad, because great is your reward in heaven…" (Matthew 5:11-12). May the promise of the Kingdom and the gift of grace be bestowed upon the victims of this tragedy and their families, and may our Lord grant peace and refreshment to all those suffering. May their memories be eternal and may He who accepted to ride upon a colt "as though riding upon the cherubim" grant us all unending faith, courage, and patience to endure and transform this "sinful and perverse generation".
Conveying to Your Holiness and the entire Coptic Church our sympathies once again, we embrace you with a "holy kiss" and remain with much love and fraternal honor.
At the Ecumenical Patriarchate, Palm Sunday, 2017
Your Holiness'
beloved brother in Christ,
+ BARTHOLOMEW
Archbishop of Constantinople-
New Rome and Ecumenical Patriarch