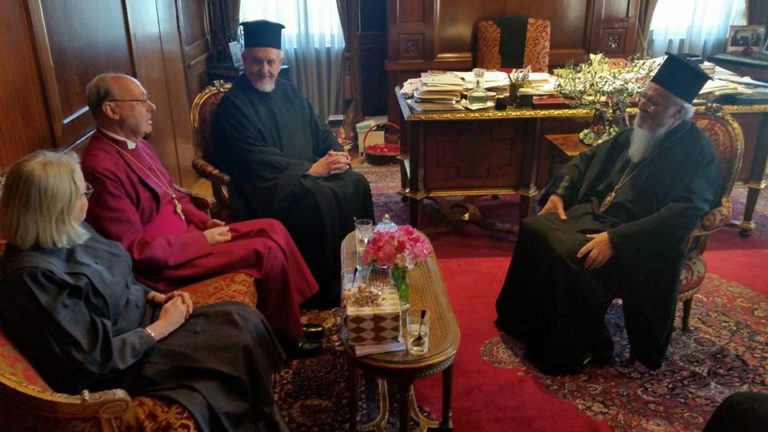 On 1 April, the president and vice-presidents of the Conference of European Churches (CEC) had an audience with His All-Holiness Ecumenical Patriarch Bartholomew at the Ecumenical Patriarchate in Istanbul. CEC President Rt Rev. Christopher Hill KCVO, DD, and CEC Vice-Presidents H. E. Metropolitan Emmanuel of France and the Very Rev. Karin Burstrand were accompanied by CEC General Secretary Fr Heikki Huttunen.
The visit provided opportunity to discuss current political and religious situations impacting both the life of the church in Istanbul and cooperation at the European level. Of particular note were the upcoming Turkish constitutional referendum and the situation of Christians as a religious minority in Turkey. They also discussed intra-Orthodox affairs, especially following from the Holy and Great Council of the Orthodox Church that took place in June 2016.
The presidency provided His All-Holiness with updates on the current work and priorities of the Conference of European Churches, including preparations for the upcoming 15th General Assembly in Novi Sad (Serbia). The Patriarch warmly expressed personal dedication to the Conference of European Churches, and assurance this commitment extends to the Ecumenical Patriarchate as a whole.
The presidents were received in a very hospitable manner and among other activities attended the divine liturgy on Sunday morning in the Patriarchal Cathedral of St. George.