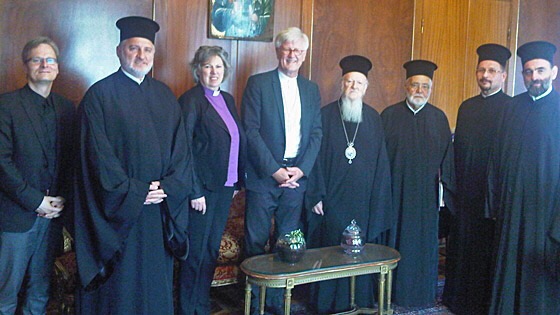 On September 29, 2016, a Delegation of the Evangelical Church of Germany (EKD) visited the see of the Ecumenical Patriarchate at the Phanar (Istanbul, Turkey) where they met with His All-Holiness the Ecumenical Patriarch Bartholomew as well as with the Synodical Commission on Inter-Christian Affairs under the chairmanship of His Eminence Metropolitan Chrysostom of Myra.
The delegation was composed of the President of its council, Bishop Dr. Heinrich Bedford-Strohm, of Rev. Dr. Martin Illert and Rev. Dr. Petra Boss-Huber and was accompanied by His Grace Bishop Bartholomew of Arianzos (auxiliary of the Metropolis of Germany).
During the meeting, they discussed the future celebrations of the 500th anniversary of the Reformation planed in May 2017 in Wittenberg and in Tübingen, as well as the documents of the Holy and Great Council of the Orthodox Church.
The bilateral theological dialogue between the Ecumenical Patriarchate and the Evangelical Church of Germany (EKD) has started in 1969. First contacts between the two Churches were already established in the 16th century, when the Ecumenical Patriarch Jeremiah II corresponded with Lutheran scholars of the University of Tübingen on theological issues.