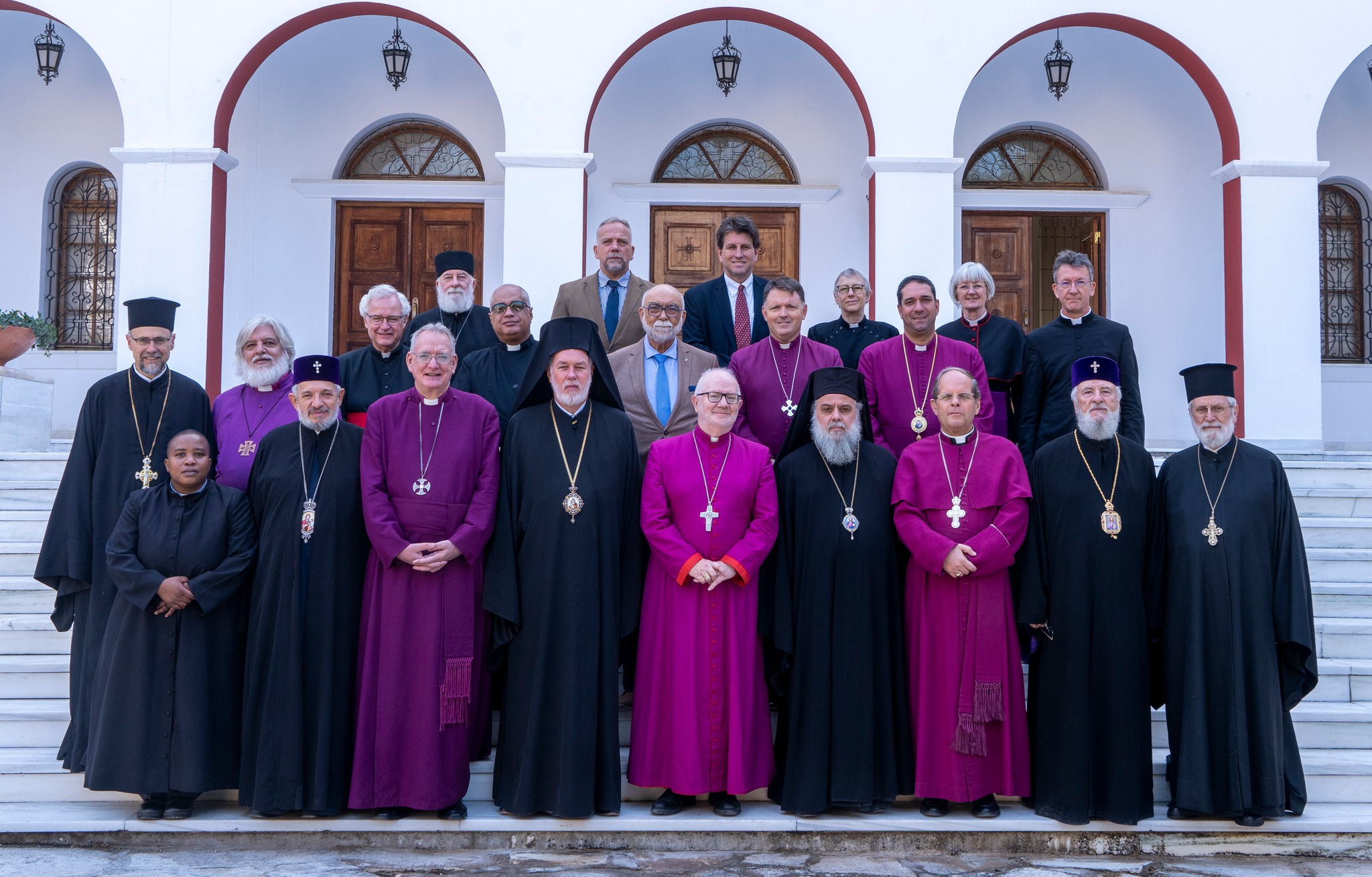 In the name of the Triune God and with the blessing and guidance of our Churches, the International Commission for Anglican–Orthodox Theological Dialogue (ICAOTD) met in Athens from the 7th to the 14th of October 2022, hosted by the Holy Synod of the Church of Greece, at the Inter-Orthodox Centre in the Monastery of Penteli.
The Commission is grateful for the hospitality and welcome received from His Beatitude Archbishop Hieronymos of Athens and all Greece, and His Eminence Metropolitan John of Thermopylae, Abbot of the Monastery of Penteli.
The Commission discussed at length and finalised an agreed statement on Dying Well, Living Well: Our Sure and Certain Hope (The Penteli Statement). The Commission began discussions on organ donation and intends to continue consideration of this topic at its next meeting.
As in previous meetings, the work of the Commission was undergirded by daily prayer and worship. Members of the Commission attended a celebration of the Divine Liturgy at the Monastery of Penteli, where we remembered with thanksgiving to God the lives and contribution to the Dialogue of former members of the Commission who died this year 2022, the late Metropolitans Kallistos of Diokleia and Ilia of Philomelion.
The Commission visited St Paul's Anglican Church in Athens where they were received with kindness by the Senior Chaplain, The Revd Canon Leonard Doolan, and the British Ambassador to Greece, His Excellency Mr Matthew Lodge. The Commission also visited the headquarters of the Archdiocese of Athens where they were received with grace and warmth by His Beatitude Archbishop Hieronymos of Athens and all Greece.
The Commission was blessed with visits to historic sites, including the Acropolis Museum, The Acropolis and the Areopagus Hill.
The work of the Commission will proceed at its next meeting in October 2023 hosted by the Anglican Diocese in Jerusalem and The Most Revd Dr Hosam Naoum. We will continue our work on organ donation and reflect on the fiftieth anniversary of the first full meeting of the Commission in 1973.
Members of the Commission present at the meeting
The Rt Revd Dr Richard Clarke (The Church of Ireland Anglican), Co-Chairman
His Eminence Metropolitan Athenagoras of Belgium (Ecumenical Patriarchate), Orthodox Co-Chairman
Representatives of the Orthodox Church
His Eminence Metropolitan Serafim of Zimbabwe and Angola (Patriarchate of Alexandria and all Africa)
The Revd Fr Jonathan A. Hemmings (Patriarchate of Antioch and all the East)
The Very Revd Professor Dr Protopresbyter George Dion Dragas (Patriarchate of Jerusalem)
Professor Dr Bogdan Lubardic (Patriarchate of Serbia)
His Eminence Metropolitan Nifon of Târgovişte (Patriarchate of Romania)
The Very Revd Professor Dr Protopresbyter Giorgi Zviadadze (Patriarchate of Georgia)
His Eminence Nektarios, Metropolitan of Kition (Church of Cyprus)
Emeritus Professor Dr Miltiadis Konstantinou (Church of Greece)
Dr Nathan Hoppe (Church of Albania)
The Very Revd Dr Protopresbyter Christos B Christakis (Ecumenical Patriarchate), Co-Secretary
Representatives of the Anglican Communion
The Most Revd Dr Phillip Aspinall (The Anglican Church of Australia)
The Rt Revd Dr Humberto Maiztegui Gonçalves (The Episcopal Anglican Church of Brazil)
The Rt Revd Graham Usher (The Church of England)
The Revd Canon Philip Hobson OGS (The Anglican Church of Canada)
The Revd Canon Dr Alison Joyce (The Church of England)
The Very Revd Dr Sarah Rowland Jones (The Church in Wales)
The Most Revd Michael Lewis
The Most Revd Hosam Naoum (The Episcopal Church in Jerusalem & the Middle East)
The Revd Marc Billimoria (The Church of Ceylon)
The Revd Gcebile Phumzile Gina (The Anglican Church of Southern Africa)
The Revd Neil Vigers, Co-Secretary Anglican Communion Office