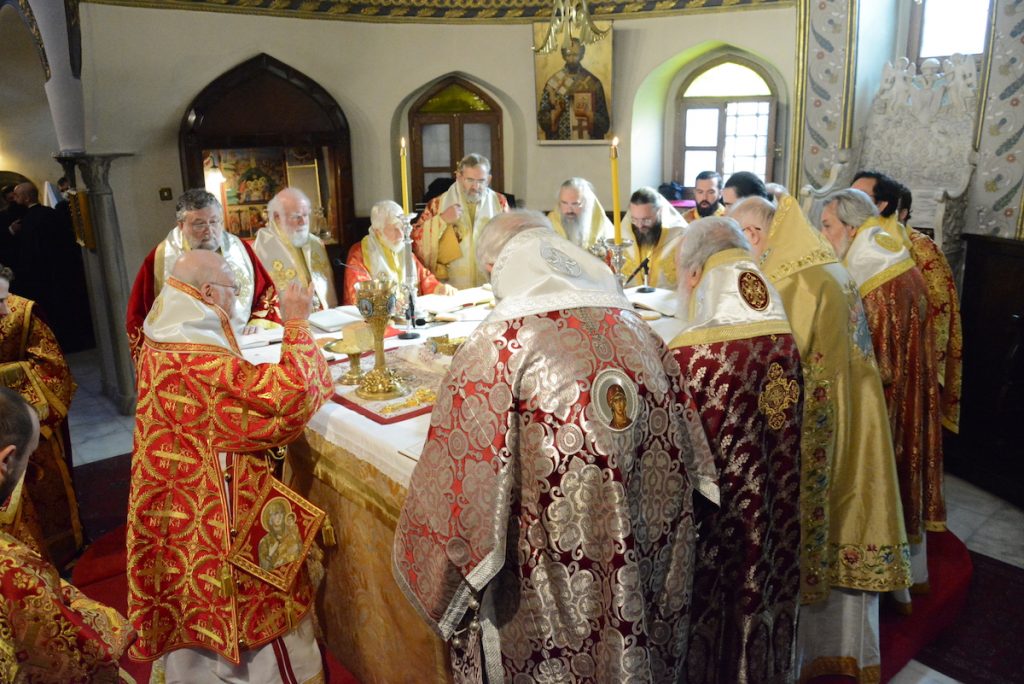 His All-Holiness Ecumenical Patriarch Bartholomew celebrated on 22 October 2021 the Divine Liturgy on the occasion of the 30th anniversary of his election to the Apostolic and Patriarchal Ecumenical Throne, in concelebration with their Eminences Metropolitans Elders Emmanuel of Chalcedon and Dimitrios of the Princes' Islands, the Metropolitans Dimitrios of Metres and Athyra, Alexios of Atlanta, Joseph of Proikonnisos, Meliton of Philadelphia, Seraphim of Sevastia, Kyrillos of Krene, Joseph of Buenos Aires, Plato of Lagada, Litis and Rentinis, Kallinikos of Kastoria and Bartholomew of Polyane and Kilkis.
At the end of the Divine Liturgy, the Ecumenical Patriarch was greeted on behalf of the Hierarchy by His Eminence Metropolitan Elder Emmanuel of Chalcedon. Greeting Messages were also read from their Beatitudes the Pope and Patriarch Theodore of Alexandria, Patriarch Daniel of Romania, Archbishop Chrysostom of Cyprus, Archbishop Anastasios of Tirana and all Albania and Metropolitan Epiphanios of Kyiv and All Ukraine, as well as from of the Greek Prime Minister Kyriakos Mitsotakis on behalf of the Greek Government.
Were present many hierarchs of the Ecumenical Throne, the Representative of the Holy Sepulcher in Constantinople His Eminence Archbishop Nektarios of Anthidona, members of delegations of the local autocephalous Orthodox Churches, clergy, monks and nuns, representatives of other Christian Churches in Turkey, the Ambassadors of Greece and Ukraine and other diplomats, and many faithful from Constantinople and pilgrims from abroad.
His All-Holiness also received many greetings, in writing and by telephone, from Primates of Churches, Heads of State, Prime Ministers and political leaders, hierarchs, religious leaders and many personalities, as well as many believers of all nationalities from around the world.