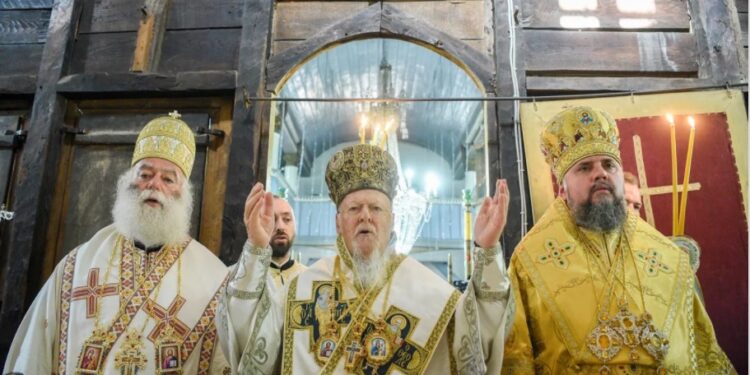 His Holiness Ecumenical Patriarch Bartholomew celebrated 60 years of his ordination as a deacon in his hometown of Imbros on 13 August 2021 with the participation of their Beatitudes the Pope and Patriarch Theodoros of Alexandria and All Africa and the Metropolitan Epiphanios of Kiev and All Ukraine, as well as the representatives of the Churches of Cyprus and Greece, Metropolitans Nektarios of Kiti and Panteleimon of Maronia and Komotini respectively, with the presence of their Eminences Metropolitans Elders Emmanuel of Chalcedon and Apostolos of Derkoi, Metropolitans Chrysostomos of Myra, George of Guinea, Paul of Drama, Eustratios of Chernihiv and Nizhyn, Bishop Adrianos of Halicarnassus, Archons of the Ecumenical Patriarchate under the leadership of Mr. Athanasios Martinou, Political Commander of Mount Athos, the Consul General of Greece in the City Mrs. Georgia Sultanopoulou, the Mayor of Imbros Mr. Alnal Çetin, and many of his compatriots and friends of Imbros.
Before the Dismissal, His All-Holiness performed a memorial service for the rest of the soul of his Elder and benefactor, the late Metropolitan Elder Meliton of Chalcedon, who resided in the Holy Diocese of Imbros and Tenedos for thirteen years and had ordained His All-Holiness to the fist degree of priesthood in 1961.
Evidently moved, the Ecumenical Patriarch addressed his brothers the Primates, the hierarchs, the clergy and the faithful, thanking all those who honored with their presence this important day in the course of his life as a clergyman of the Holy Church of Christ. His Holiness was then addressed by the Primates of the Churches of Alexandria and Ukraine. The Metropolitans Metropolitans Nektarios of Kiti and Panteleimon of Maronia and Komotini read respectively the congratulatory letters of their Beatitudes Archbishops Chrysostomos of Cyprus and Jerome of Athens and all of Greece, while the Chief Secretary of the Holy and Sacred Synod, Archimandrite Grigorios read the message sent by His Beatitude Patriarch Daniel of Romania. The Mayor of Imbros also congratulated His All-Holiness with warm words, who described as important it is for the island to have a descendant at the head of the first Throne of the Orthodox Church.Afterwards, a festive banquet was held in the gardens of the Palace of the Metropolis. In the afternoon, His All-Holiness, together with the Primates, the hierarchs and many Imbriotes and visitors attended a festive concert.