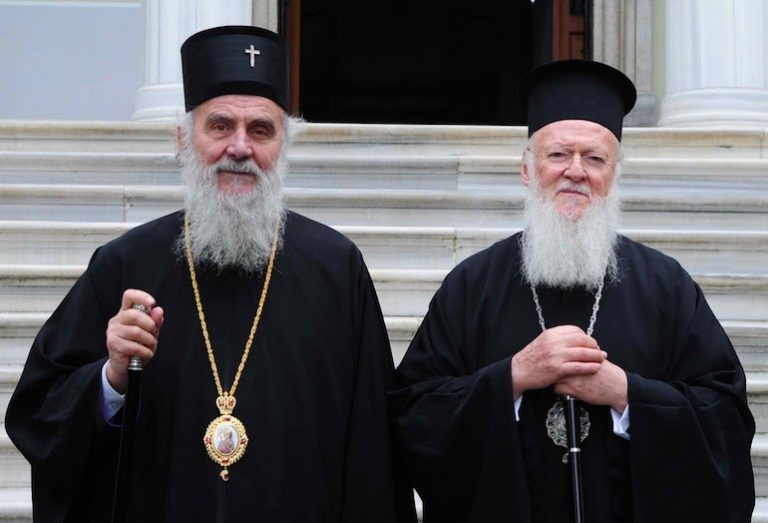 On 20 November 2020, His Beatitude Patriarch Irinej of Serbia reposed in the Lord at the age of  90 due to COVID-19. The funeral service was celebrated on 22 November 2020  in the new cathedral of Saint Sava in Belgrade. The body of Patriarch Irinej was then buried in the crypt of the church that was built especially for the burial of Serbian hierarchs.
Born Miroslav Gavrilović on 28 August 1930, he was the Primate of the Orthodox Church of Serbia  from 22 January 2010 until his death on 20 November 2020, after having been the bishop of Niš between 1975 and 2010.
His All-Holiness Ecumenical Patriarch Bartholomew sent the following letter of condolences to the Orthodox Church of Serbia on the passing of His Beatitude Patriarch Irinej:
To the Holy Church of Serbia
In Belgrade
Your Elder and Venerable Patriarch has reposed!
We, in great pain, respond at the Phanar, having received this message of doom, and hasten to express to our sister, the Holy Church of Serbia, the strong sympathy of the Ecumenical Patriarchate and of our Modesty personally, with the assurance that we pray fervently to our Lord who has the power over the dead and the living to grant repose to his soul who has been transferred from us to the land of the living, having given in exchange to His Church a work of many years which has borne fruit, thus showing the way to his worthy successor at the rudder of the orphan sister Church, with whom we will be always willing to collaborate for our bilateral relations and for the pan-Orthodox unity and cooperation.
May eternal be the memory of our renowned brother Patriarch Irinej on his blessed repose!
Mourning brotherly,
Patriarch Bartholomew
Phanar, 20 November, 2020