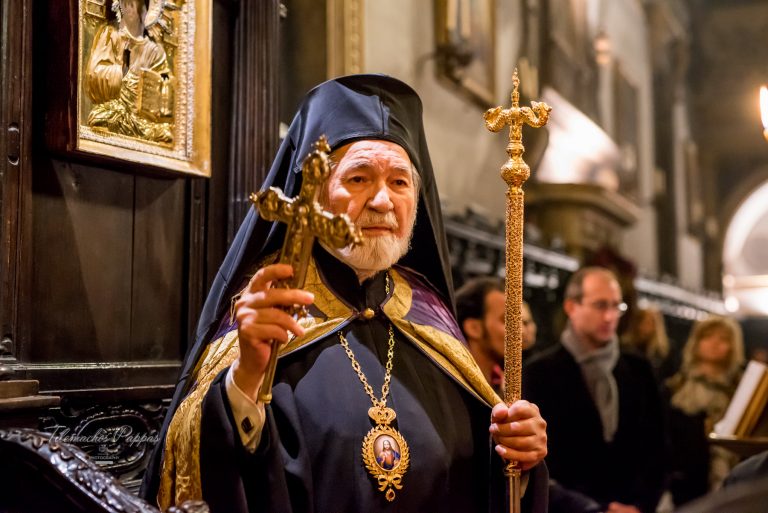 On 16 October 2020, His Eminence Metropolitan Gennadios of Italy and Malta has fallen asleep in the Lord.
Gennadios, aka Tsampìcos Zervós, was born in Kremastì on the island of Rhodes on 8 July 1937. He studied theology at the Halki Theological School in Istanbul. He was ordained deacon on 16 April 1960 by the then Metropolitan of Rhodes Spyridon in the Holy Monastery of the Holy Trinity in Halki and was then sent by the Ecumenical Patriarch Athenagoras to Italy, to Naples, to continue his postgraduate studies. There, he presented a doctoral thesis in theology on "The Contribution of the Ecumenical Patriarchate for Christian Unity", which was the first historical work written in a Catholic University by a Greek Orthodox cleric.
For ten years he taught Patristic Theology at the Institute of Saint Nicholas in Bari. During his fifty-year service in Italy, he brilliantly and effectively developed pastoral activities in the ecclesiastical, spiritual and social field, thanks to which he received as recognition, by the authorities of the Italian Republic, the decoration of Grand Official. He actively participated, as a representative of the Ecumenical Patriarchate, in numerous scientific conferences and ecclesiastical events.
On 26 November 1970, on the initiative of the Ecumenical Patriarch Athenagoras, he was unanimously elected bishop of Krateia and became the first Orthodox bishop to reside in Italy after 275 years. On 26 August 1996, he was unanimously elected Metropolitan of Italy and enthroned in the historic Cathedral of San Giorgio dei Greci in Venice on 27 October of the same year.
Metropolitan Gennadios founded 5 monasteries and about 65 parishes and over the years of his pastoral government new parishes and new clerics have been welcomed into the bosom of the Orthodox archdiocese. The parishes already founded in Bologna, Padua, Parma and Perugia have taken shape, prestige and strengthened. His dialogue with the Italian State and his close collaboration with the Pontifical Council for Christian Unity were tireless. He made Orthodoxy flourish again right in the middle of Roman Catholicism, and thanks to his frequent and important pastoral journeys he taught the spirit of ecumenism of the Ecumenical Patriarchate, and strengthened its prestige and impact in the territories of traditionally Roman Catholic Italy and Malta.
May the Lord God rest to the soul of a great promoter of Christian unity!