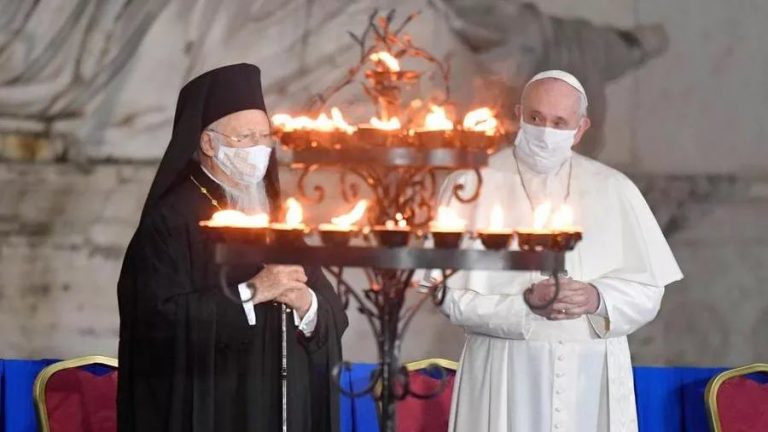 His All-Holiness Ecumenical Patriarch Bartholomew visited Rome on 19-22 October 2020 to attend and speak at the International Meeting of prayer for peace "No One Is Saved Alone – Peace and Fraternity", organized in Rome on 20 October 2020 by the Community of Sant'Egidio. On 19 October, His All-Holiness chaired a prayer. On 21 October 2020, the Ecumenical Patriarch received the title of Honorary Doctor from the Pontifical University of Antonianum. On the same occasion, His All-Holiness had a special meeting with His Holiness Pope Francis.
It is in the spirit of the words of encyclical "Fratelli Tutti" of His Holiness Pope Francis that the Community of Sant'Egidio has promoted the International Meeting of Prayer for Peace between the large world religions, titled: "No one is saved alone – Peace and fraternity".
In his laudatio at the Pontifical University of Antonianum, Cardinal Secretary of State Pietro Parolin emphasized that there is deep, true harmony between the teaching of Pope Francis and that of Ecumenical Patriarch Bartholomew. He emphasized that in the figure of the Ecumenical Patriarch we can find "a particularly significant example because of his heartfelt concern for the environmental crisis and, even more so, for his profound reflection on the ecological theme", recalling how Patriarch Bartholomew had been "a source of inspiration" for Pope Francis.