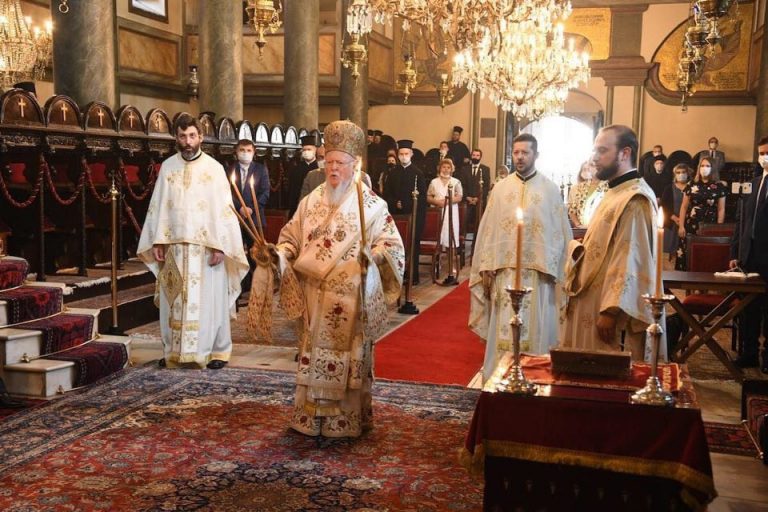 His All-Holiness Ecumenical Patriarch Bartholomew celebrated his name's day on 11 June 2020 in an unusual way due to the extraordinary circumstances of the pandemic, "as a family", surrounded by the hierarchs of the Ecumenical Throne, the members of the Patriarchal Court, the diplomatic representatives of Greece and Ukraine in Turkey, and by the small flock of the Queen City, as well as the numerous flock of the Great Church of Christ throughout the world, many of whom attended the service online.
The Ecumenical Patriarch stressed that "the power of God" is infinitely more powerful than the pandemic" in his address after the Divine Liturgy which he presided, surrounded by the clergy of the Patriarchal Court in the Patriarchal church at the Phanar for the feast of the Holy Apostles Bartholomew and Barnabas. "I thank you all from the bottom of my heart for your presence and your wishes and prayers, and I entrust to you my patriarchal blessing full and undivided, always invoking the grace of the Holy Spirit, the celebrated Apostles and the 300 Chinese Orthodox under the leadership of Saint Mitrophanes who were martyred on this day 120 years ago for their holy faith in Christ". The Ecumenical Patriarch reminded that on the same day the Church of Cyprus celebrates her Thronal feast, since Saint Barnabas is her patron and protector. He added that he sent a congratulatory message to her Primate, His Beatitude Archbishop Chrysostomos of Cyprus, wishing him long life and good health and stability and unity to his Church.
The Divine Liturgy was attended by hierarchs of the Ecumenical Throne living in Turkey, the representative of the Holy Sepulcher in the City His Eminence Archbishop Nektarios of Anthidonos, the Ambassadors of Greece and Ukraine in Ankara, their Excellencies Mr. Michael-Christos Diamesis and Mr. Andrii Sybiha, the Consuls General of these two countries in Istanbul Mrs. Georgia Soultanopoulou and Mr. Oleksandr Gaman, Archons of the Holy Great Church of Christ, clergy and faithful from the City, all adhering to precautionary measures due to the pandemic of Coronavirus.
Heads of Churches, Presidents of States, Prime Ministers and political leaders, ministers, hierarchs and many other personalities expressed their wishes to His All-Holiness in writing or by telephone.