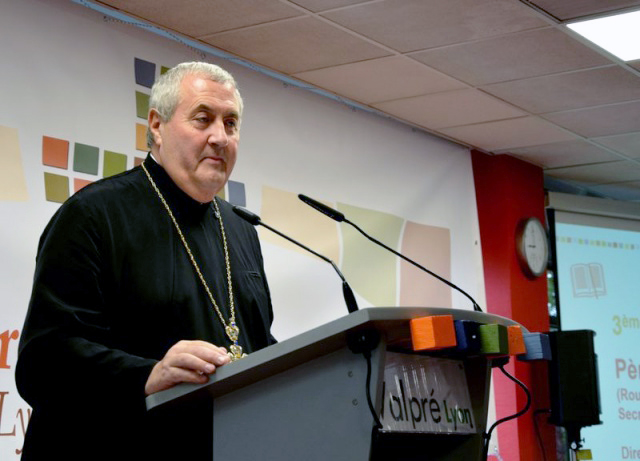 Fr Prof. Ioan Sauca has been appointed acting World Council of Churches (WCC) general secretary beginning 1 April 2020. Fr Ioan Sauca, who currently serves as deputy general secretary for the WCC programme on Ecumenical Formation and Bossey Ecumenical Institute, will hold the general secretary post until the WCC Executive Committee meets in June 2020.
The leadership of the WCC Central Committee decided to postpone the full WCC Central Committee meeting, once slated for 18-24 March, along with the Executive Committee meeting that was to precede it in light of concerns about and implications of the current international spread of COVID 19 (coronavirus). Postponing the meetings incurs its own costs, both institutional and financial. The executive committee must appoint an acting general secretary to fill the vacant position as of 1 April, for the time after the departure of the present general secretary. The leadership of the central committee decided to appoint WCC deputy general secretary Rev. Prof. Dr Ioan Sauca as acting general secretary for the period from 1 April until the Executive Committee meets in June.
Rev. Dr Olav Fykse Tveit Tveit will leave the WCC on 31 March, and his consecration as bishop and installation as the Presiding Bishop of the Bishop's Conference in the Church of Norway will be in Nidaros Cathedral, Trondheim, on 26 April. Tveit will return for the WCC Central Committee meeting in August to present his final report.
Sauca, who is from the Orthodox Church in Romania, has been Professor of Missiology and Ecumenical Theology at Bossey since 1998 and its director since 2001. He has served as a WCC deputy general secretary since 2014. Sauca first joined the WCC in 1994 as executive secretary for Orthodox Studies and Relationship in Mission. Prior to joining the WCC he taught mission and ecumenism at the faculty of theology in Sibiu, Romania and later served his patriarchate as head of the newly established Department of Press and Communication with additional responsibility for the Department for External and Ecumenical Church Relations and of religious education in public schools. Sauca studied at the Theological Faculties in Sibiu and Bucharest, Romania, and obtained his Ph.D. in Theology (Missiology) at the University of Birmingham, UK. He is also an alumnus of the Graduate School at the Ecumenical Institute in Bossey.