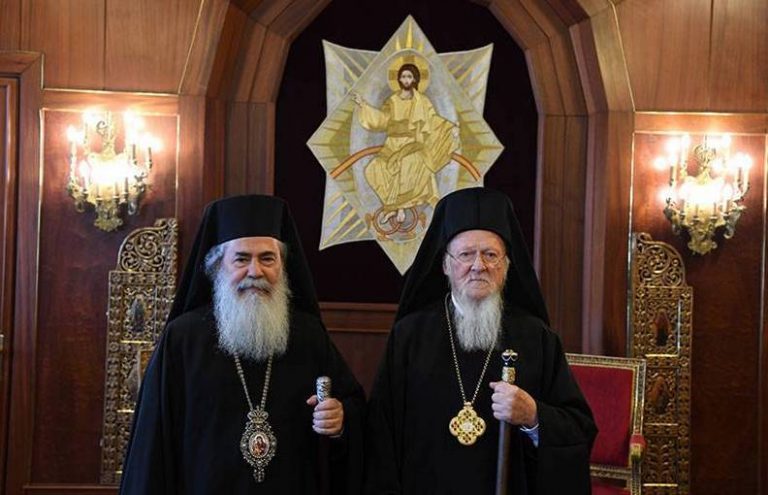 His All-Holiness Ecumenical Patriarch Bartholomew, in an official letter of 26 December 2019, responded to the letter of His Beatitude Patriarch Theophilos of Jerusalem, sent to the Primates of the Orthodox autocephalous Churches, proposing a consultation "for the preservation of unity in the Eucharistic communion" of the Orthodox Church.
In his letter, the Ecumenical Patriarch expressed his surprise that the letter sent by the Patriarch of Jerusalem was for the first time in history written in English and not in Greek, as it is common in the correspondence between the two sees. The Ecumenical Patriarch then reminded the Patriarch of Jerusalem of whom has the prerogative of presiding over Orthodox Primates and of whom has the privilege to convene  Pan-Orthodox meetings.
"It is needless to remind you of the position that your Patriarchate holds in the order of the Diptychs of the Most Holy Orthodox Church, as well as the fact that, according to the canonical order, which has always been respected by all Orthodox Churches until recently, Pan-Orthodox Synaxis of the Primates have been always convened by the Ecumenical Patriarch, who presides over them. What kind of unity does your initiative want to serve, if the First in rank of the Orthodox Primates is absent from the Synaxis you propose?" wrote Patriarch Bartholomew.
Finally, after stressing that the Eucharistic communion between the Churches was never interrupted, with the exception of the Church of Moscow who has unilaterally interrupted communion with some local Churches, the Ecumenical Patriarch, on behalf of the first throne of the Orthodox Church, called on Patriarch Theophilos in a brotherly spirit to renounce to his non-canonical initiative of calling for a pan-orthodox meeting, which serves foreign purposes and undermines the Ecumenical Throne.