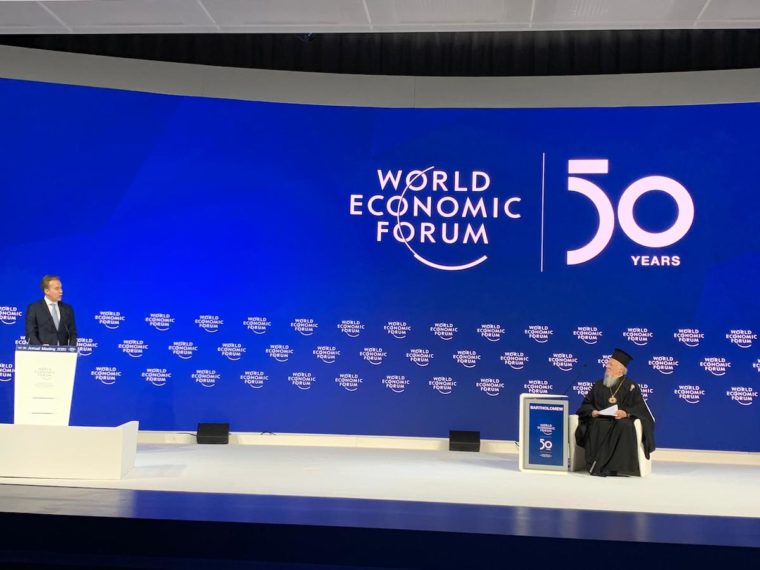 Ecumenical Patriarch Bartholomew is attending and speaking at the World Economic Forum, which is taking place on 20-24 January 2020, in Davos, Switzerland. This is the third time that the Ecumenical Patriarch is attend the World Economic Forum. Nearly 3,000 participants from 117 countries are participating in this 50th Annual Meeting.
On 21 January, Patriarch Bartholomew spoke at a session on ecological problems and climate change. In his speech, the Ecumenical Patriarch called the world leaders not to put the financial interests of their countries above the real interests of the people, which are associated with the protection of our planet and with global warming, the consequence of which are the extreme weather conditions, wildfires, floods, and many others. "In order to restore the balance of our planet, we need a spiritual worldview, which promotes humility, respect and solidarity. We must become conscious of the impact of our actions on creation and other people. We must direct our focus away from what we want to what is our duty and to what the planet needs" said the Green Patriarch.
On 22 January, Patriarch Bartholomew also participated in a joint press conference with other religious leaders, and delivered a speech organized by the international organization "Interfaith Alliance". The Ecumenical Patriarch insisted in his address on the role of the religious faith in creating a viable world with social cohesion, the value of dialogue as a key instrument in this regard, as well as the condemnation of all forms of violence and religious intolerance. He pointed out that it is tragic that many people today tend to identify religion with terrorism, war and intolerance. In another part of his address attended by personalities from around the world, Patriarch Bartholomew emphasized that peace and justice in the world cannot exist without the contribution and cooperation of religions. He noted that in this context, the Ecumenical Patriarchate took the lead in ecumenical organizations, such as the World Council of Churches, and supported and promoted bilateral dialogues with non-Orthodox Christians, as well as with Muslims and Jews in the Middle East and internationally.
His All-Holiness had also a private meeting with the President of the World Economic Forum Borge Brende, former Minister for the Environment and later Minister of Foreign Affairs of Norway.
Founded in 1971, the World Economic Forum's mission is to improve the state of the world by engaging business, political, academic, and other leaders of society to shape global, regional, and industry agendas.