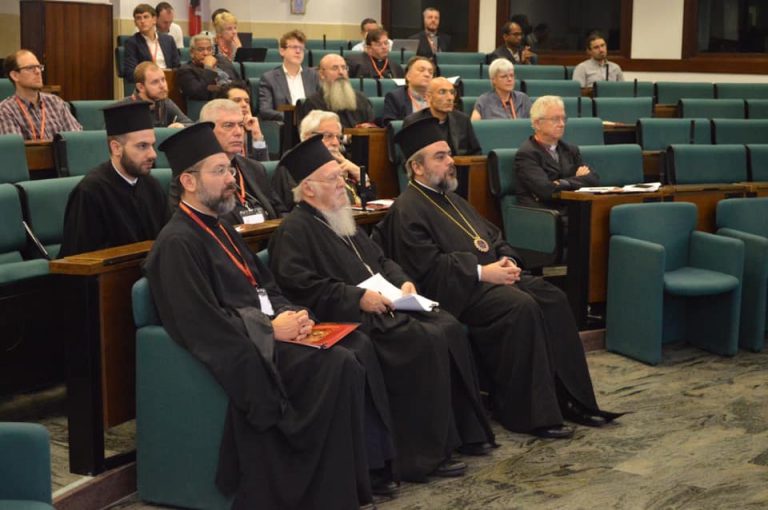 Ecumenical Patriarch Bartholomew was the keynote speaker of the 24th International Congress of the Society for the Law of the Eastern Churches, which was held in Rome from 16-20 September 2019 on the theme "Fifty Years of Encounter Among the Eastern Churches: How Canon Law Assists in the Ecumenical Dialogue".  The Society brings together experts from the Eastern Catholic, Orthodox and Oriental Churches.  This momentous occasion marked the 50th Anniversary since the founding of the Society and provided an opportunity for participants to reflect upon these fifty years of encounter and how the canonical tradition has assisted in the development of the Ecumenical dialogue.
Ecumenical Patriarch Bartholomew, who was one of the founding members of the Society and served as its first Vice-President after its founding in 1969, stressed in his keynote address that "the role of the Society cannot but be actively supportive of the Roman-Catholic – Orthodox formal theological dialogue. Our mixed theological committee could find useful relevant material to that end in the papers and conclusions of the Society's congresses". He reminded that "in terms of the importance of canon law for the advancement of the theological dialogue between the two sister Churches, the Ravenna Agreed Statement affirms: 'In order for there to be full ecclesial communion, there must be, between our Churches, reciprocal recognition of canonical legislations in their legitimate diversities' (§ 16)." Therefore, according to the Ecumenical Patriarch, "it wouldn't be an exaggeration to reach the conclusion that the perception of canon law as a tool for the promotion of the ecumenical dialogue is deeply embedded within the DNA of the Society."
The Society also had the honor of having a private audience with Pope Francis, who expressed in his address that the work of the Society was of fundamental assistance to ecumenical dialogue and that the participants could learn from one another in all areas of ecclesial life, such as theology, the experience of spirituality and liturgy, pastoral activity and canon law. "Canon law is essential for ecumenical dialogue" stated Pope Francis. Many of the theological dialogues pursued by the Catholic Church, especially with the Orthodox Church and the Oriental Churches were of an ecclesiological nature. Since ecclesiology found expression in the institutions and the law of the Churches, theological dialogues also had a canonical dimension. Ecumenical dialogue also enriched canon law.