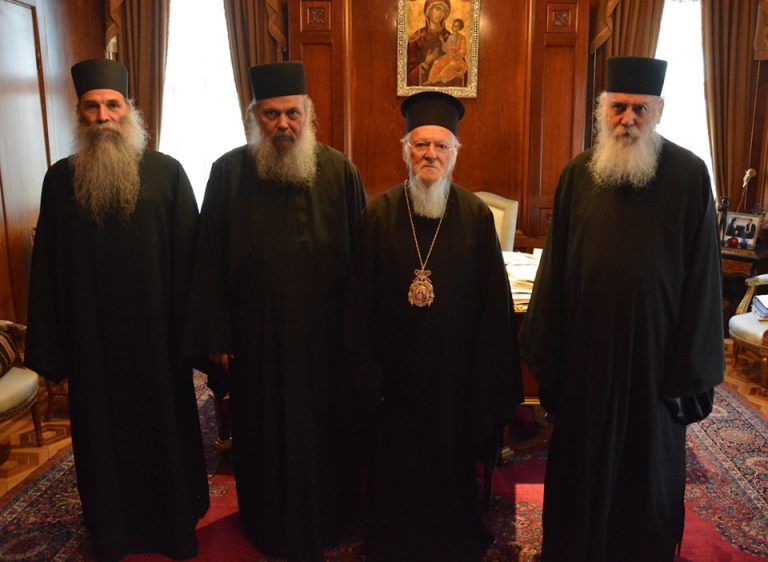 On 3 August 2019, a Delegation of the Holy Community of Mount Athos, consisting of Monk Nikodemos of the Great Lavra, Monk Nikodemos of the Monastery of Saint Paul and Hieromonk Sisoes of Xenophontos Monastery, had a meeting with His All-Holiness Ecumenical Patriarch Bartholomew to prepare the visit of the Ecumenical Patriarch on Mount Athos on 19-22 October 2019.
On Saturday, 19 October, the Ecumenical Patriarch will arrive at Xenophontos Monastery, his first stop on Mount Athos. At the port of the Monastery shall take place the official welcome of Ecumenical Patriarch Bartholomew by the Abbot, the abbots and the representatives of the 20 Athonite monasteries.
The following day, Sunday, 20 October, the Ecumenical Patriarch will preside the Divine Liturgy at the new catholicon (major church) of the Monastery on the occasion of the 200th anniversary of its foundation.
During his visit, the Ecumenical Patriarch will travel to Karyes, where he will venerate the protecting Icon of Mount Athos, the "Axion Esti", in the Protato Church, and will also visit the Monasteries of Vatopedi, Pantocrator,  Saint Panteleimon and the Sketes of Saint Andrew (Serai) and Prophet Elias.