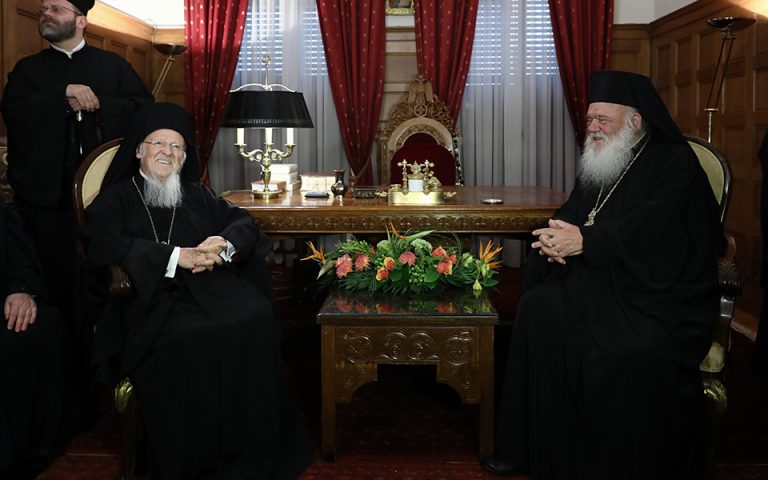 His All-Holiness Ecumenical Patriarch Bartholomew visited Athens during a two-day on 22-24 May 2019 at the invitation of His Beatitude the Archbishop of Athens and All Greece Ieronymos, with whom he had a private meeting and collaboration.
The Ecumenical Patriarch stressed that "we had a good and useful conversation with His Beatitude Archbishop Ieronymos. It is our first encounter after some disturbances that have taken place between us. These are human. We must have the power to overcome them for the sake of the Church." The two Primates also touched upon the Ukrainian ecclesiastical issue and shared mutual information on the issues that currently concern the Ecumenical Patriarchate and the Church of Greece. The Ecumenical Patriarch was accompanied by the Metropolitans John of Pergamon and Amphilochios of Adrianoupolis, while Bishop Simeon of Thespias, the chief secretary of the Holy Synod of the Church of Greece archimandrite Philotheos Theocharis and the clergy of the Archdiocese of Athens, were present at the meeting.
During his visit,  the Ecumenical Patriarch inaugurated the Saint Porphyrios Center for Gerontology, in Dilessia, Viotia. The Center bears the name of Saint Porphyrios because it was the wish of Elder Porphyrios to create it.