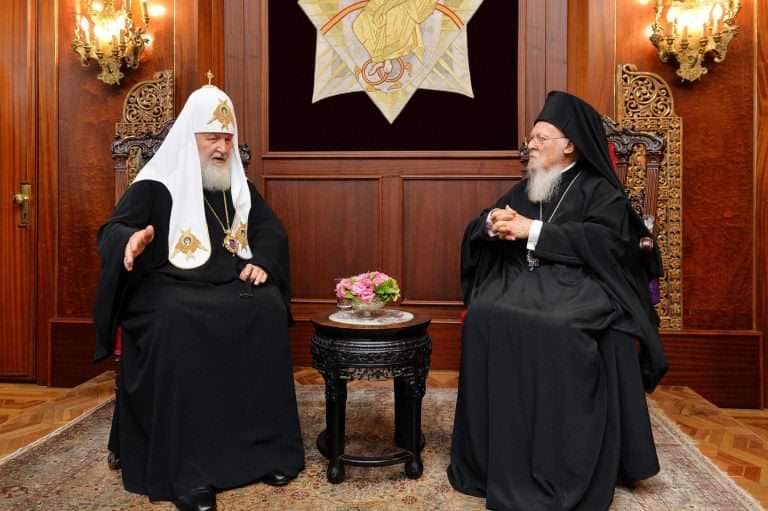 On Friday morning, August 31, 2018, following his communicated desire, His Beatitude Patriarch Kirill of Moscow and All Russia, accompanied by His Eminence Metropolitan Hilarion of Volokolamsk, the Reverend Protopriest Nikolai Balashov and the Reverend Presbyter Anatoly Churyakov, interpreter, arrived at the Phanar in order to deliberate with His All-Holiness Ecumenical Patriarch Bartholomew on matters of inter-Orthodox concern.
Patriarch Kirill was greeted at the airport by His Eminence Metropolitan Gennadios of Sassima and the Very Reverend Grand Archimandrite Vissarion, Archivist of the Patriarchate.
His Beatitude proceeded to the Ecumenical Patriarchate, where he was greeted by Their Eminences Metropolitans Emmanuel of France and Bartholomew of Smyrna, as well as the members of the Patriarchal Court, led by the Very Reverend Grand Chancellor Andreas. After paying his respects at the Venerable Patriarchal Church, he was received by His All-Holiness in the Chamber of the Throne, in the presence of members of the Holy and Sacred Synod and other Hierarchs, who had traveled to the Phanar to participate in the Synaxis of the Hierarchs of the Ecumenical Throne on the feast of Indiction.
His All-Holiness warmly welcomed His Beatitude to the courts of the Mother Church, recalling their spiritual fathers, Elder Metropolitan Meliton of Chalcedon and Metropolitan Nikodim of Leningrad of blessed memory, and all those who have worked for bilateral relations between the two Churches, as well as inter-Orthodox relations in general. He emphasized the importance of dialogue as a God-given means towards overcoming emerging challenges. His Beatitude responded by expressing the deep emotion and vivid recollections of past visits to the Queen of Cities and his collaboration with His All-Holiness.
The two Primates then held a lengthy private discussion in the Patriarchal Office together with Their Eminences Metropolitans Emmanuel of France and Hilarion of Volokolamsk, Chairman of the Moscow Patriarchate Department for External Church Relations.
At the conclusion of their two-and-a-half hour conversation, His Beatitude departed for Moscow.