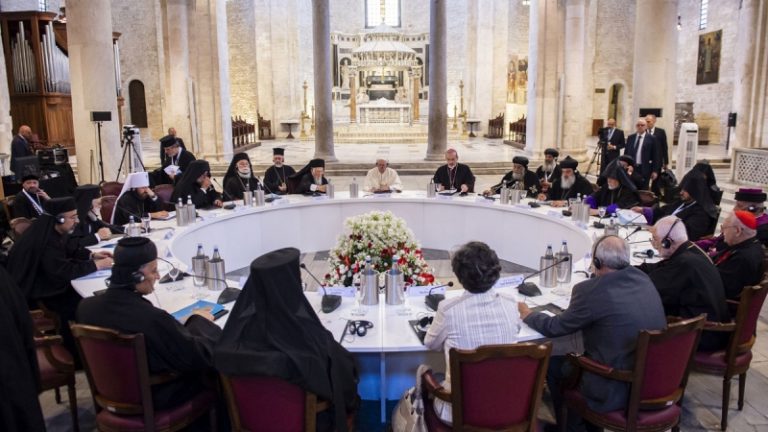 Ecumenical Patriarch Bartholomew participated in a day-long ecumenical reflection and prayer meeting hosted by Pope Francis on July 7 in Bari, southern Italy, with the heads of Christian Churches of the Middle East for peace in the Middle East.
Besides His All-Holiness Ecumenical Patriarch Bartholomew, were also present: His Beatitude Patriarch Theodoros II of Alexandria and All Africa, His Eminence Archbishop Nektarios of Anthedon representing His Beatitude Patriarch Theophilos III of Jerusalem, His Eminence Metropolitan Hilarion of Volokolamsk representing His Holiness Patriarch Cyril of Moscow and All Russia, His Eminence Metropolitan Vasilios of Konstantia and Ammochostos representing His Beatitude Archbishop Chrysostomos II of Nea Justiniana and All Cyprus. The meeting was also attended by representatives of Oriental Orthodox Churches: His Holiness Pope Tawadros II of the Coptic Orthodox Church, His Holiness Patriarch Mor Ignatius Aphrem II of the Syriac Orthodox Church of Antioch and All the East, His Holiness Catholicos Aram I of the Armenian Apostolic Church (Holy See of Cilicia) and His Grace Bishop Hovakim of the United Kingdom and Ireland representing His Holiness Supreme Patriarch and Catholicos Karekin II of the Armenian Apostolic Church (Mother See of Holy Etchmiadzin), as well as His Holiness Catholicos Patriarch Mar Gewargis II of the Assyrian Church of the East, and different representatives of Eastern Catholic Churches and Protestant Churches.
The gathering was a special occasion in that it brought together nearly all Middle Eastern heads of Churches, as well as the Middle East Council of Churches. The location of the gathering (Bari, Italy) was chosen as a symbol of unity since the relics of St. Nicholas, venerated by both the Catholics and Orthodox, are kept there. The program included the veneration of the relics of St. Nicholas, a prayer service and a closed roundtable between church leaders. The ecumenical prayer service was attended by about 50 000 people.