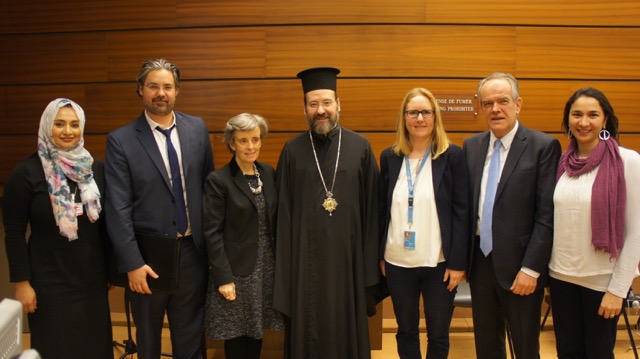 On 8 March 2018, Archbishop Job of Telmessos represented the Ecumenical Patriarchate at a side event of the 37th session of the Human Rights Council at the United Nations in Geneva, co-organized by Arigatou International Geneva, the Office of the Special Representative of the Secretary General on Violence Against Children, the World Council of Churches, the World Vision, the UNICEF and the World Health Organization, and focusing on Prevention of Violence in Early Childhood.
The objectives of this side event were to discuss and share knowledge on the extent and nature of violence in early childhood; identify concrete actions and share good practices to challenge cultural and social norms that justify violence against children in child upbringing; reflect on the role of religious communities to challenge social and cultural norms that justify violence against children; and identify policies and programs that can help ending violence in early childhood and support the creation of safe and nurturing environments for children.
During the Panel Discussion which included also Ms. Marta Santos País (Special Representative of the UN Secretary General on Violence Against Children), Mr. Aaron Greenberg (Regional Child Protection Adviser for CEE/CIS, UNICEF), Dr. Etienne Krug (Director, Management of Noncommunicable Diseases, Disability, Violence and Injury Prevention, WHO), Mrs. Neelan Fida (Global Child Protection & Inclusion Advisor, Islamic Relief Worldwide) and Ms. Maria Lucia Uribe (Director, Arigatou International Geneva), Archbishop Job of Telmessos said the following:
"The Ecumenical Patriarchate, of which I have the honour to be the Permanent Representative to the World Council of Churches, is particularly happy of the collaboration established between UNICEF and the WCC on the Churches' Commitments to Children.
In their early childhood, between 0-3 years, children are the most vulnerable as they cannot speak to anyone about the violence they may experience. Being exposed to for example domestic violence during that age can leave scars which last a whole lifetime. His Holiness the Ecumenical Patriarch Bartholomew calls upon orthodox communities to do their utmost for the protection of children from violence, in order to be the faithful to their organic mission.
Pastors witness every day that being a parent of young children is very challenging. Many parents feel overwhelmed by the reactions and needs small children have. As Church communities we can accompany parents during that period – through spiritual support, parenting groups and mentoring programmes.
His Holiness the Ecumenical Patriarch Bartholomew also speaks to the hearts of children and helps them find strength through their faith, whenever they face a difficult situation. Church communities can help children who were victims of violence to find resilience through spiritual support.
The protection of children through Church communities should be the most natural commitment of Christians, since in the New Testament, Jesus Christ said, "Let the little children come to me, and do not hinder them, for the kingdom of heaven belongs to such as these" (Mt 19:14), and elsewhere: "Truly I tell you, unless you change and become like little children, you will never enter the kingdom of heaven" (Mt 18:3). For Christianity, the purity and innocence of children is given as a paradigm. Therefore, protecting children from any kind of abuse is the most natural message of Christianity. Unfortunately, abuse is not something that may happen outside the Christian community but can also happen within it. Therefore, Christian communities are called not only to protect children from child abuse and psychological violence in the society, but also within themselves.
Through the "Churches' Commitments to Children" initiative the WCC and UNICEF are now providing support to ensure that effective safeguarding measures are in place in all churches.
Many churches run health institutions and schools in various countries. By raising awareness on how to prevent violence and respond to violence against young children and where to find help for exhausted parents these church-run health facilities and schools can achieve a lot, in collaboration with governments and authorities.
I would like to give 3 examples of how our religious leader challenges realities which are responsible for violence against children:
In December 2016 our Ecumenical Patriarch Bartholomew, in his Christmas encyclical, called "to respect the identity and sacredness of childhood". He called Churches to protect childhood from the plague of child mortality, hunger and child labour, child abuse and psychological violence, as well as the dangers of altering children's souls through their uncontrolled exposure to the influence of contemporary electronic means of communication. On that occasion, the Ecumenical Patriarchate declared the year 2017 as the Year of Protection of the Sacredness of Childhood, inviting everyone to recognize and respect the rights and integrity of children.
A Forum on Modern Slavery, co-sponsored with the the Archbishop of Canterbury Justin Welby, took place in Istanbul in February 2017 under the auspices of His All-Holiness Ecumenical Patriarch Bartholomew. We know that trafficking also affects very young children. Traffickers may persuade / promise parents in extremely difficult situations to give their baby away to have a better future in another place. The Ecumenical Patriarch Bartholomew stressed "True Faith is a source of permanent struggle against the powers of inhumanity." Together with the Church of England he encouraged state leaders to "find appropriate and effective ways of prosecuting those involved in human trafficking, preventing all forms of modern-day slavery, and protecting its victims in our communities and promoting hope wherever people are exploited". The Ecumenical Patriarch and the Archbishop of Canterbury established a joint taskforce on modern slavery.
Climate change and environmental degradation is a root cause of violence in early childhood, as it brings high risks for the health of newborns. It is also a strong source of fear among children of all ages. When water becomes scarce because of drought, the poorest children and families are most likely to resort to unsafe water sources. In low- and middle-income countries, inadequate drinking water, sanitation and hygiene accounts for around 1,000 under-five deaths per day. The youngest children are the first victims of air pollution, diarrheal disease and malnutrition. Therefore the Churches' Commitments to Children promote church initiatives with and for children which urge for behaviour change that protects the environment, regarded as God's creation.
His All-Holiness Ecumenical Patriarch Bartholomew has persistently proclaimed the primacy of spiritual values in determining environmental ethics and action. On this matter, the Holy and Great Council of the Orthodox Church has stated: "The approach to the ecological problem on the basis of the principles of the Christian tradition demands (…) a radical change in mentality and behaviour, but also asceticism as an antidote to consumerism, the deification of needs and the acquisitive attitude. It also presupposes our greatest responsibility to hand down a viable natural environment to future generations and to use it according to divine will and blessing."
These efforts related to preservation of creation and spiritual care are as important for a safe early childhood as churches' initiatives in support to positive parenting."