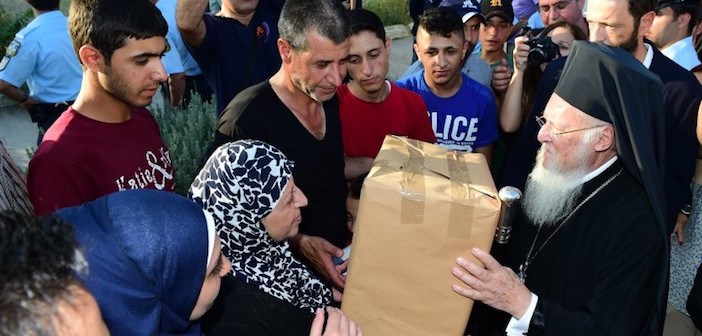 As the Orthodox Church entered into the Holy and Great Lent leading to Pascha, the feast of feasts, celebrating the Resurrection of Christ, Ecumenical Patriarch Bartholomew exhorted the people of good will to engage in fasting in a communal spirit. "Ascesis is not individualistic but an ecclesiastical event and achievement—our participation as believers in the mystery and sacraments of the Church, a struggle against selfishness, a practice of philanthropy, a Eucharistic use of creation and a contribution to the transfiguration of the world" says the Ecumenical Patriarch in his catechetical homily for the opening of Great Lent this year. "When spirituality is authentic, it cannot also be fruitless. Whoever truly loves God also loves one's neighbor everywhere as well as creation in its entirety" says the Patriarch.
In his message for Lent 2018, Pope Francis of Rome also called to a spirituality of charing. "Almsgiving sets us free from greed and helps us to regard our neighbour as a brother or sister. What I possess is never mine alone. How I would like almsgiving to become a genuine style of life for each of us!" said the Pope. Then he adds: "This is all the more fitting during the Lenten season, when many groups take up collections to assist Churches and peoples in need."  And he went on saying: "Fasting weakens our tendency to violence; it disarms us and becomes an important opportunity for growth. On the one hand, it allows us to experience what the destitute and the starving have to endure. On the other hand, it expresses our own spiritual hunger and thirst for life in God. Fasting wakes us up. It makes us more attentive to God and our neighbour."
Over these recent years, fasting, with its concern for the care of creation and of humanity has become at the heart of the Ecumenical Movement. For instance, the Lutheran World Lutheran Federation has actively engaged since 2013 in the initiative called "fast for the climate", calling to fast in solidarity with the poor and vulnerable, to pray and fast for people affected by extreme weather events all around the world, which are increasing in frequency and intensity due to climate change, as well as to fast, pray and meditate for a tangible and ambitious outcome to the climate change negotiations.
More recently, the General Secretary of the World Council of Churches (WCC), Rev. Dr. Olav Fykse Tveit, has echoed calls from Pope Francis and Anglican leaders for Friday 23 February 2018 to be set aside as a day of prayer and fasting for peace, with a particular focus on the Democratic Republic of Congo and South Sudan.
Also, the World Council of Churches Ecumenical Water Network (WCC-EWN) invites all people of good will to use this Lenten season to reflect on water. Since during this period many people engage in fasting and practice moderation or self-denial in order to focus on repentance and consecrating themselves to God, and while water has a strong spiritual significance in the Christian tradition as a gift from God, this scarce resource is threatened and denied to millions around the world. During Lent 2018, they propose the initiative called "Seven Weeks for Water 2018" with reflections written by theologians and environmentalists from Latin America.