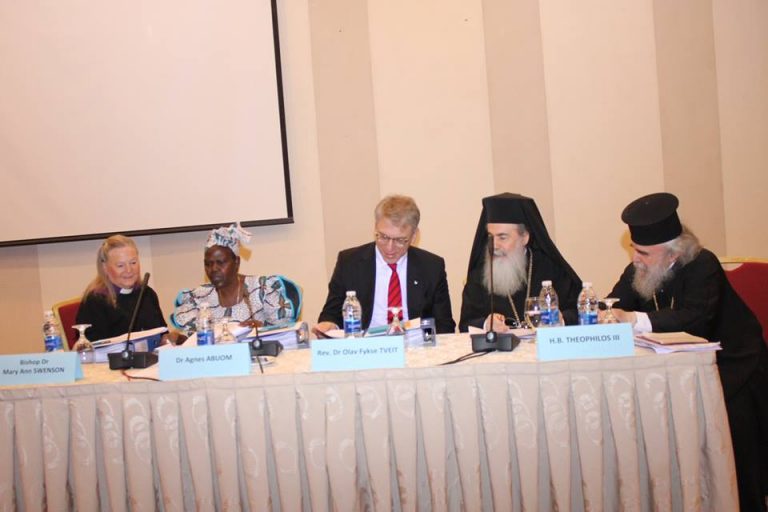 The World Council of Churches (WCC) Executive Committee met in Amman (Jordan) on 17-23 November 2017 to approve the 2018 plan and budget and prepare for renewal of the WCC strategic plan at the invitation of Patriarch Theophilos III of Jerusalem, All Palestine and Jordan. In his welcome address, the Patriarch of Jerusalem underlined that the meeting gathered in "the Middle East at a difficult time for [the] region. The world community is united in the view that a vital, vibrant Christian community is an essential part of the multi-ethnic, multi-cultural, and multi-religious landscape of the Middle East. We are indigenous to this region, and indeed the Greek Orthodox Patriarchate of Jerusalem is the oldest continuous religious institution here."
The Patriarch then spoke of the Status Quo: "As you know, for generations the sacred character  of the Holy Land has been protected by the Status Quo, which is recognized by both religious and civil authorities and the international community as protecting and guaranteeing the rights and privileges of the Churches, especially with respect to the holy sites and to other religious activity. The provisions of the Status Quo have been upheld carefully by successive civil authorities in our region. Over the last several months, we have seen a new level of threat to the stability of our multi-ethnic, multi-cultural, multi-religious society in a number of attacks on religious communities – and especially on Christian communities." He explained that "Most significant and worrying, however, are the underhanded actions of radical settler groups who in the majority of cases acquire property in Jerusalem's Old City and elsewhere, utilizing illegitimate methods of coercion that lack proper authority."  He added: "It is the firm position of the Heads of the Churches in Jerusalem that the movement of these radical settler groups must be curbed and controlled and their intimidating tactics to exclude non-Jews from Jerusalem must be resisted to preserve the defining multi-faith tapestry of the Old City."
The Patriarch also thanked and asked the continuous support of the WCC by saying: "We hope very much that our World Council of Churches will continue in its mission in the Middle East to secure the position of the Christian Community against the new threats to our existence and freedom. We are deeply thankful for all the support that the World Council of Churches has always shown to the Christian community for the Holy Land and the Middle East, and we look forward to being able to join forces with you in order to increase advocacy for the common benefit of all our peoples and in deepening the peaceful co-existence among Jews, Christians and Muslims."
For this reason, the Executive Committee also discerned the way forward for the WCC's involvement in Palestine and Israel by learning more about the particular situation in Jordan and the Middle East, then discussing the challenges of the churches and the WCC response.  It approved the strategic plan for the period of 2018-2021 for the Ecumenical Accompaniment Programme in Palestine and Israel (EAPPI). The Executive Committee issued a statement expressing concern over the ways in which church institutions and properties in Jerusalem are threatened as a result of contracts of disputed legality, the efforts of radical settler groups, and policies of the government of Israel.
His Majesty King Abdullah received a WCC delegation to discuss the current situation in the Middle East. During the meeting, King Abdullah assured the delegation that Jordan, under the Hashemite custodianship of Jerusalem's Islamic and Christian holy sites, will continue efforts to preserve the city's holy shrines and defend the property of its churches at all international forums. King Abdullah reiterated that Arab Christians are an integral part of the region and a key element of its identity, affirming that the protection of rights is the duty of all. King Abdullah also underlined efforts Jordan continues to exert to disseminate the values of tolerance and moderation and to build bridges of dialogue and understanding among the followers of different religions.
WCC general secretary Rev. Dr Olav Fykse Tveit, in his report, emphasized a quest for unity within the WCC's work, particularly as it relates to justice and peace across the world: "As we prepare for the 70th anniversary we are in a modus of thanksgiving and proving how this body is alive, moving and taking new initiatives for the sake of the unity of Christians and the churches in the world."  Unity is a key issue for the pilgrimage of justice and peace in Africa and for the preparations of the Conference on World Mission and Evangelism in Tanzania next year, continued Tveit. "The call to unity for the nations is much stronger when the churches also find their own credible expressions of unity," he said.