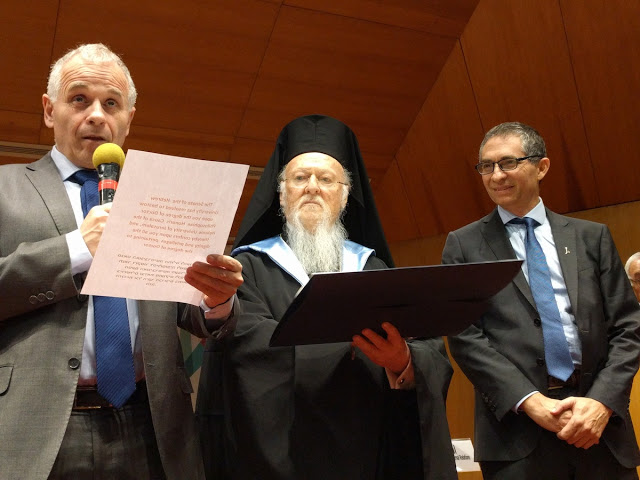 The Ecumenical Patriarch Bartholomew received a Doctorate Honoris Causa from the Hebrew University in Jerusalem on 6 December 2017 recognizing his contribution to promoting interreligious dialogue between the two monotheistic religions. In his speech, the Ecumenical Patriarch said that he considers "this gesture a tribute paid to the Ecumenical Patriarchate, the Great Church of Christ, in recognition of its many initiatives, especially on matters related to the protection of the natural environment, to the culture of solidarity and to interfaith dialogue".
In his address, the Patriarch stressed "in the last decades, we have witnessed a re-evaluation of the role of religion in the public sphere and its contribution to face the major challenges of today. Religions have preserved high values, precious spiritual and moral heritage, as well as deep anthropological knowledge". He then added that "unfortunately, the ongoing outburst of religious fundamentalism and the terrible acts of violence in the name of religion provide additional arguments against faith to the modern critiques of religion, and support the identification of religion with its negative aspects. The truth is that violence is the negation of fundamental religious beliefs and doctrine."
He concluded his address by saying: "Concerning the question of whether or not humanity is allowed to expect such an important contribution from the side of religion, we provide the following answer, with which we conclude our speech: Our biggest mistake is not the fact that we expect so much from religion, but rather, that we don't expect even more from this great spiritual power— deeply rooted in the human soul— on matters concerning peace, solidarity, the meaning of life, and the eternal destination of the human being and creation."
During his visit, His All-Holiness performed a pilgrimage visit to the Most Holy Places and met with His Beatitude Patriarch Theophilos III of Jerusalem. He also spoke at the meeting of the academic dialogue between the Orthodox Church and Judaism, which is now celebrating its 40th anniversary, on the subject of "the importance of Jerusalem for the two religious traditions".