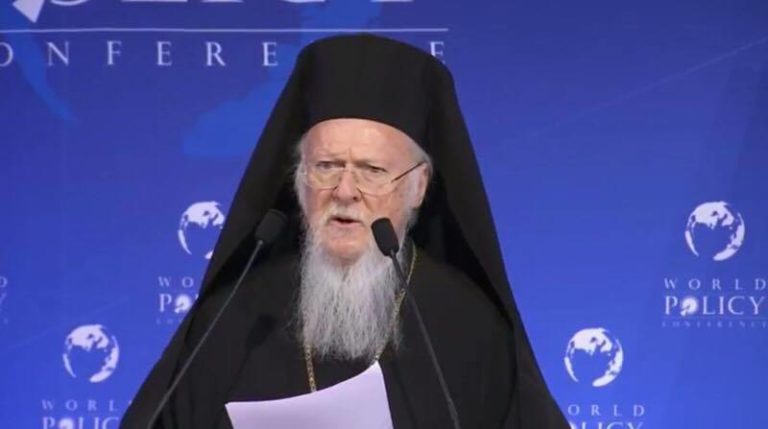 Ecumenical Patriarch Bartholomew took part in the tenth edition of the World Policy Conference in Marrakech (Marocco) on 3-5 November 2017. One should note that he is the only world religious leader to have been invited to speak at this important event. The World Policy Conference (WPC), launched by the Institut Français de Relations Internationales (IFRI) at the end of 2007, is the first effort at a systematic assessment of the organisation of world governance that would respond to the realities of the 21st century. It brings together top-level decision-makers, researchers and opinion leaders.
Key ideas of the WPC are that the world, in its political and economic dimensions, is an interdependent system in need of coherent governance; that states, as the major political units, have a collective responsibility to shape this "global system"; that globalisation has contributed to a proliferation of international-level non-state actors (companies, market operators, NGOs…); good governance requires close co-operation among these actors and the states, structured according to their fields of activity; that good governance also requires that the weight of the largest states does not overwhelm the smaller ones, whose voices must be heard; and that at this beginning of the twenty-first century, the world is subject to an unprecedented rate of change, with equally unprecedented speed and complexity. The tools of governance must therefore be capable of adaptation, at the pace of rapidly changing and often unpredictable circumstances.
In his address, Ecumenical Patriarch Bartholomew stressed that "the legitimacy of religions today depends on their clear attitude towards the protection of human freedom and dignity as founding principles in the establishment of peace. No challenge, be it personal or international, will find a solution in solitude and isolation. We need each other because we are beings of relationship, beings of communion who, as we get closer, become real actors of peace." "True peace is not achieved by the force of arms, but only by the love that does not seek its interest" said the Patriarch.