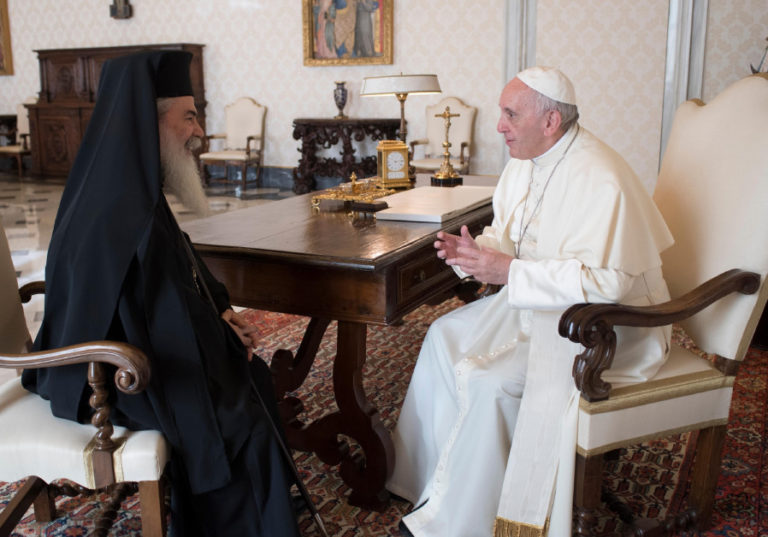 Pope Francis of Rome and Patriarch of Theophilos III Jerusalem met at the Vatican on 23 October 2017 during the visit of the Patriarch of Jerusalem in Rome from 22 to 25 October, meeting with top Vatican officials. On this occasion, Pope Francis called for an end to violence and discrimination against people of different faiths in the Holy Land.
In his address, Patriarch Theophilos explained that the reason of his fraternal visit was to express his concernabout the profound threat that has been developing in recent years to the integrity of the Holy Land and the Middle East, with the rise of new persecutions and an increase in displaced populations. He explained that the Patriarchate of Jerusalem now faces a direct affront to the integrity of the Holy City in a wrongful and unjust judgement against the Patriarchate, and in favour of right-wing settlor groups, with respect to some of our historic properties in the Christian Quarter of the Old City. He explained that the Christian communities of the Holy Land are fully united in opposition to any attempt to change the provisions and the spirit of the historic Status Quo. He asked the support of the Pope to ensure the Christian presence in the Holy Land and the wider Middle East so that this region may remain a place where peoples of many cultures and religions live in peaceful co-existence and mutual respect.
In his address, Pope Francis recalled his own journey to Jerusalem in 2014 and expressed his pleasure at the recent restoration of Jesus' tomb in the Basilica of the Holy Sepulchre, a project that saw close cooperation between the Orthodox, the Armenians and the Franciscan Custody of the Holy Land. The pope conveyed his closeness to all those suffering from the ongoing conflict between Israelis and Palestinians, noting that the lack of understanding continues "to create insecurity, the restriction of fundamental rights and the flight of many people from their land". He called for increased efforts to achieve peace based on justice and recognition of the rights of all people. The Status Quo of Jerusalem must be defended and preserved, the pope insisted, while violence, discrimination and intolerance against Jewish, Christian or Muslim places of worship must be firmly rejected. Pope Francis also sent greetings to members of the different Christian communities in the region, saying he hoped they may continue to be recognized as citizens and believers who contribute to the common good. This contribution will be all the more effective, he stressed, to the extent that there is harmony between the different Churches. In particular the pope called for increased cooperation in supporting Christian families and young people, so that they are not forced to leave the country. While we cannot change the past or overlook the grave failures of charity over the centuries, he said, Christians must look to a future of reconciliation and communion, in order to fulfill the Lord's prayer "that they may all be one".