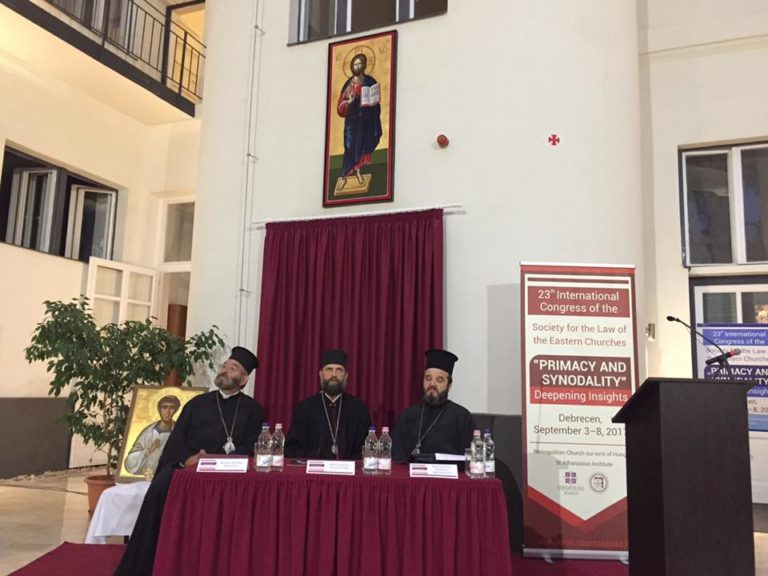 The Society for the Law of the Eastern Churches held its 23rd International Congress in Debrecen (Hungary) on September 3-8, 2017 on the theme "Primacy and Synodality. Deepening Insights", which is actual in the Ecumenical dialogue. The congress was hosted by the Hungarian Greek Catholic Church and focused on current Catholic and Orthodox positions as well as on perspectives from Local Churches and Current Catholic Institutions, taking into account historical perspectives and comparative views. As it was noted in the message of the Ecumenical Patriarch Bartholomew to the participants of the congress, "the issue of primacy and conciliarity is of decisive significance for the Eastern Churches, where neither does primacy obscure conciliarity nor does conciliarity obfuscate primacy. (…) Moreover, the topic of discussion at the Joint International Commission for the Theological Dialogue between the Roman Catholic Church and the Orthodox Church has for the last years concentrated on the matter of primacy, with particular reference to the role of the Bishop of Rome in the communion of the Churches".
Speakers included, from the Ecumenical Patriarchate, the Metropolitan of Selyvria Maximus (Vgenopoulos) who gave the opening lecture on "Contemporary views of Primacy in the Orthodox Church", the Archbishop of Telmessos Job (Getcha) who spoke on "Primacy and Synodality: The challenges of the second millennium", and Prof. Elias Patsavos (from Boston, USA) who presented "The Governance of the Greek Orthodox Archdiocese of America".
The Society for the Law of the Eastern Churches was established according to Austrian Law in 1969. Among its founding members was the actual Ecumenical Patriarch Bartholomew. The organisational centre of the Society is the Department for Legal Philosophy, Law of Religion and Culture (former Institute for Canon Law) of the Viennese Faculty of Law. The purpose of the Society is the promotion of better international and inter-confessional scholarly collaboration among specialists of the Law of the Eastern Churches and of the Civil Law on Churches insofar as it concerns the Eastern Churches, particularly the Orthodox and the Greek Catholic Churches. The president of the Society was until now the Bishop of Avidos Kyrillos Katerelos (from the Ecumenical Patriarchate).