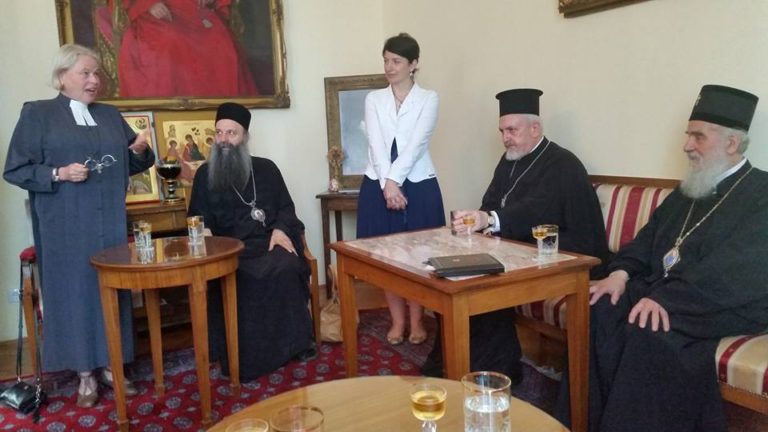 The Conference of European Churches Governing Board recently travelled to Belgrade for its regular meeting. Much of their time together was devoted to preparations for the next CEC General Assembly, which will take place in Novi Sad from 30 May to 6 June 2018 and has already attracted national attention in Serbia.
A delegation of board members and staff led by CEC President Rt Rev. Christopher Hill KCVO, DD were received by Igor Mirović, president of the government of the Autonomous Province of Vojvodina, who expressed his support for the Assembly, which will bring together hundreds of church leaders and ecumenists from across Europe under the theme "You shall be my witnesses." Vice-mayor of Novi Sad, Milorad Radojević emphasized the multicultural and multireligious character of the city, and noted that the CEC Assembly was part of a broader process that will also see Novi Sad honoured as the European City of Youth (2019) and European Cultural Capital (2020). Members of the board and staff also met with Dr Mileta Radojević, director at the Ministry of Justice, who discussed the role of interchurch and interreligious dialogue in the reconciliation process in the western Balkans.
Church leadership in Serbia also extended a warm welcome to the CEC Governing Board. His Holiness Patriarch Irinej of the Serbian Orthodox Church received the group at Petrovaradin Fortress in Novi Sad as part of their broader tour of Assembly venues.
The general secretary and other staff members delivered reports on their activities and plans for the upcoming programmatic year. This included progress on the process surrounding the open letter What future for Europe and regional consultations, which will continue in Volos (Greece) and Prague (Czech Republic) in the autumn.
The Churches' Commission for Migrants in Europe (CCME) updated the board on its activities and facilitated a visit to refugee drop-in centers near the central railway station in Belgrade. Discussions on a renewed agreement of cooperation between CEC and CCME continued.
Rev. Canon Sarah Rowland Jones, representing the Church in Wales, was appointed a proxy member to the Board.
The next meeting of the Governing Board takes place in November in Brussels.
The Conference of European Churches (CEC) is a fellowship of 115 Orthodox, Protestant, Anglican and Old Catholic Churches from all countries of Europe, plus 40 National Councils of Churches and Organisations in Partnership. CEC was founded in 1959. It has offices in Brussels and Strasbourg.