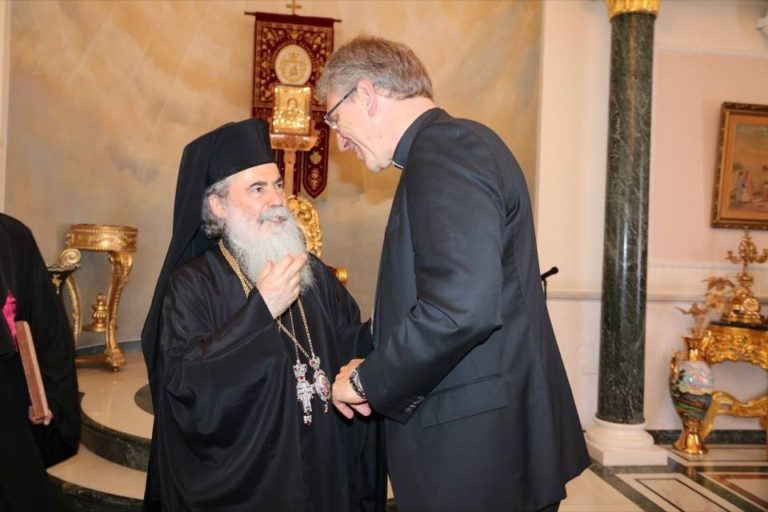 On Pentecost Sunday, 4 June 2017, World Council of Churches General Secretary Rev. Dr Olav Fykse Tveit joined the Jerusalem Patriarchate for the feast of the Descent of the Holy Spirit at the Most Holy Church of the Resurrection. He was officially received by  His Beatitude Patriarch of Jerusalem Theophilos who led the celebration, celebrating together with Their Eminences Metropolitan Isychios of Kapitolias, Archbishops Theodosios of Sebastia, Demetrios of Lydda, and Metropolitan Joachim of Helenoupolis, the Hagiotaphite clergy, as well as local congregants and pilgrims. The Dismissal of the Divine Liturgy was followed by the Vespers of the Monday of the Holy Spirit with the kneeling prayers, in which representatives of the World Council of Churches participated. An ecumenical prayer service was then held at the Dormition Abbey on 5 June, initiated by church leaders in Jerusalem calling for Christians all over the world to pray for justice and peace.
For this occasion, His All-Holiness Ecumenical Patriarch Bartholomew prepared a special prayer based on the Orthodox Christian Tradition:
A PRAYER FOR PENTECOST
Almighty Father, who created all things out of love and fashioned all people in your image, who sent your only Son for the life of the world, to bring light to those dwelling in darkness: look down from the heavens and hear our prayer for unity and peace.
Lord Jesus, Word of God, who spoke through the prophets and judges, who is revealed through the least of your brothers and sisters, who desire that all should be saved and that your disciples should be one: reconcile the scattered parts of your body.
Heavenly King, Comforter, the Spirit of truth, present everywhere and filling all things, the treasury of goodness and giver of life: come and dwell within us and among us, by cleansing us from the stain of division and healing us from the pain of suffering.
From this Upper Room and Holy Land, we stretch out our hands in prayer and open up our hearts in compassion, so the world may believe that you are the living God and that "God is love."