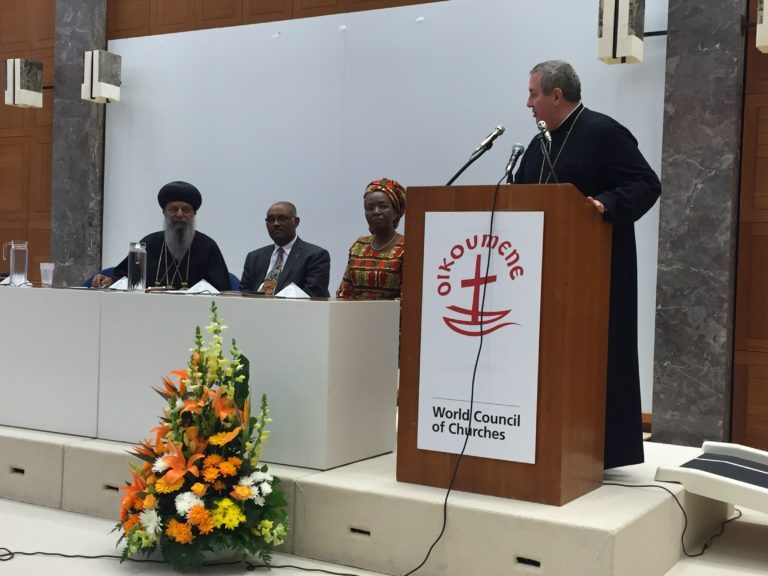 On 8-11 February 2017, His Holiness Abune Matthias Asratetshion Kokebu I, Patriarch of Ethiopia, Archbishop of Axum, Echegue of the See of St. Tekle Haimanot, Primate of the Ethiopian Orthodox Tewahedo Church made an official visit to the World Council of Churches that included a visit of the Ecumenical Centre, meeting with the leadership of the WCC, meeting with the Orthodox staff members, meeting with the African staff, a visit of the Ecumenical Institute of Bossey and a meeting with its faculty and students, a visit of the Orthodox Centre of the Ecumenical Patriarchate in Chambésy and a meeting with the leadership, faculty and students of its Postgraduate Institute of Orthodox Theology, a public conference at the Ecumenical Center of the WCC, and a Liturgy at the Ecumenical Centre Chapel.
In his public address, Patriarch Abune Matthias brought greetings on behalf of more than 50 million members of the Ethiopian Orthodox Tewahedo Church. He commended the WCC for remaining dedicated to its founding principle of forging unity between and among the worldwide Christian community. "Compared to that historic time of the creation of the WCC, today Christianity is under assault, challenge and confrontation throughout the world." He also answered questions from the audience.  "Being together, despite differences of traditions," seemed to be the most important focus for the Ecumenical Movement today.
The Patriarch said in his address: "Let it be clear, therefore, that the principle and objectives articulated when the WCC was established have relevance and meaning today more than ever." And he further added: "Hence the WCC has been calling not only member Churches and ecumenical councils but also governments, world leaders, and social movements to stand together in the fight against devastation – responding to manmade and natural disasters, ensuring peace, justice and dignity of all, and making our earth a safer place to live."
For  Patriarch Abune Matthias, peace is the key word in the Church's message. "In our church, peace is the message of every day," he said. "We have faithfully followed the call of the WCC for interreligious dialogue to be integrated as an important part of our ecumenical responsibility."
The Ethiopian Orthodox Tewahedo Church is an Oriental (Pre-chalcedonian) Orthodox Church, established in the first century, now has more than 50 million members; 35,000 parish churches; 1,500 ancient monasteries (including those in Jerusalem); 50 archbishops and bishops; 400,000 ordained clergy, and 20,000 classical and ecclesiastical schools. During his four day visit to Geneva, Patriarch Abune Matthias was accompanied by His Grace Abune Mussie (Archbishop of the Diocese of Western Europe), His Grace Abune Sawiros Moges Liche (Archbishop of the Southwest Shewa Diocese and general secretary of the Holy Synod), His Grace Abune Enthos Hailu Hagos (Archbishop of Western Hararge Diocese) and Rev. Musie Hailu Asgedom.