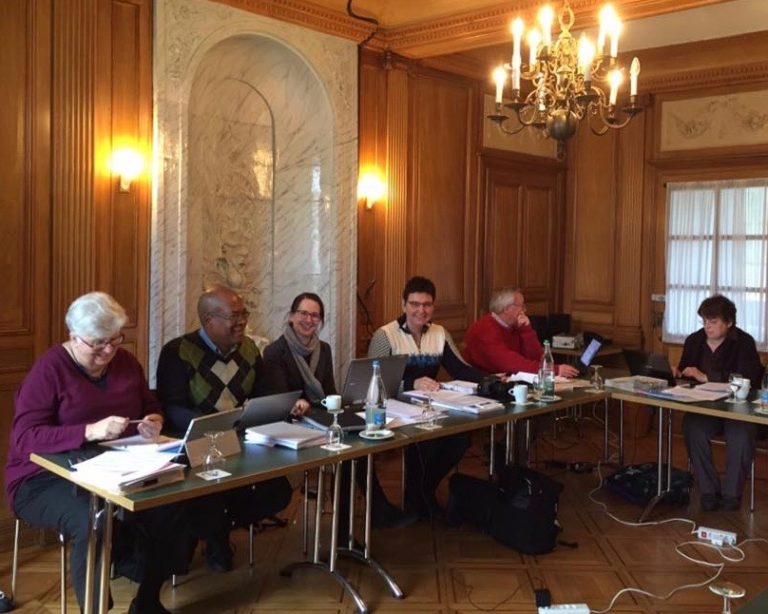 The Faith and Order Study Group on Ecclesiology held a meeting at the Ecumenical Institute in Bossey, near Geneva, 8-12 January 2017, to continue its study of responses to the convergence document "The Church: Towards a Common Vision" submitted by Churches, councils of Churches, ecumenical organisations and individuals. So far, Faith and Order has received almost 60 responses and it is expected that this number or grow in the coming weeks and months. The group analysed carefully more than twenty responses. Its work will continue through video conferences in the coming weeks as well as through the Faith and Order Commission meeting that will take place in South Africa next June. The process is slow because each response is analysed individually by the whole group.
The convergence document "The Church: Towards a Common Vision⇒" is available in 12 languages.
The Commission on Faith and Order is a study commission of the World Council of Churches. The purpose of the theological studies it undertakes is ecumenical: "to serve the churches as they call one another to visible unity in one faith and in one Eucharistic fellowship…" As a think tank constituted by official representatives of Churches belonging to the main historical streams of Christianity, including the Roman Catholic Church, the commission is a unique multilateral, global forum of ecumenical theology.
The roots of the Faith and Order movement reach back to 1910, when the General Convention of the Episcopal Church USA called for a world conference "for the consideration of questions touching Faith and Order", i.e. questions of doctrine (Faith) and questions related to the ministerial structure of the Church (Order). Following two world conferences in 1927 and 1937, the movement became the Commission on Faith and Order when the World Council of Churches was finally established in 1948.
Faith and Order studies and texts have no independent authority. They gain importance in the ecumenical discussion insofar as they prove helpful to the Churches in addressing issues of theology and practice which continue to divide them. Most Faith and Order texts are distributed widely, in order to promote the broadest possible discussion among the Churches of issues related to unity. But not all texts are at the same stage of development, or have the same "status" in relation to the Faith and Order Commission itself. Broadly speaking one can distinguish between reports of specific consultations, which reflect only the discussion and degree of agreement among those present, and texts which have been reviewed and revised, as part of a larger study process, by the Faith and Order Commission. Such texts may be sent formally to the Churches for reaction. ✙